Fire-hit Campsmount Technology College to be rebuilt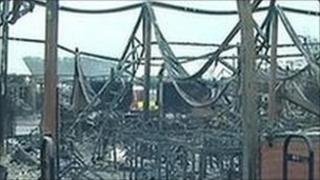 The rebuilding of a fire-ravaged school in Doncaster, axed when the government cut the Building Schools for the Future (BSF) programme, is to go ahead.
Most of Campsmount Technology College was wrecked in December 2009. Students have since used temporary classrooms.
It faced an uncertain future when the coalition government axed the previous Labour administration's BSF scheme.
But the Department for Education (DfE) has now said the school will get the money it needs to be rebuilt.
The school and Doncaster council made representations to education ministers, explaining the exceptional circumstances.
A subsequent visit by a DfE representative to the school led to the DfE deciding to support the plans to rebuild.
Head teacher, Andrew Sprakes, said: "This is fantastic news for the school and the wider community.
"We achieved amazing results this year in spite of the disruption caused by the fire and we are now looking forward to building a 21st Century school that will enhance the learning experiences for our young people now and in the future.
"This is a richly deserved reward for our staff and community who have always displayed tremendous spirit, commitment and support for Campsmount."
'Special case'
Doncaster council will shortly begin a process of selecting a bidder for the project, with construction expected to start in March 2011.
Mayor of Doncaster Peter Davies said: "A tremendous amount of work has gone on behind the scenes by the council's school rebuilding team and the school to make this happen.
"Campsmount was always a special case."
The government said Campsmount Technology College would be a pilot scheme as part of the Schools' Capital Review which is looking at how future spending on school buildings and facilities can match the new government's priorities.