Jamie Oliver fears for Rotherham Ministry of Food fund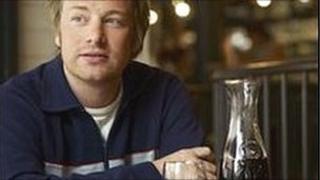 Celebrity chef Jamie Oliver has said he fears spending cuts could hit the Ministry of Food which he set up in Rotherham to encourage healthy eating.
The Ministry was set up as part of his 2008 Channel 4 series which sought to teach good cooking on a tight budget.
It was backed by central government funding, which Oliver said he had heard could be under threat.
Rotherham council said it wanted the Ministry to continue and was looking at other ways of raising revenue.
In an article published on his website on Monday, Oliver said the Ministry of Food centre in Rotherham had been "funded by the far-sighted local council to the tune of £130,000 a year".
Government funding was channelled through the local authority.
Last year the project taught 6,500 people and classes were booked months in advance, Oliver added.
"Now, I've heard that the Ministry in Rotherham could be a victim of funding cuts," Oliver said.
"The local council there is doing everything it can to keep the Ministry open and I hope it will succeed but I can't understand why keeping it open should even be in doubt at all.
"It's abundantly clear that this is one of the few strategies that is actually working that helps people overcome their problems with food."
The Ministry of Food in Rotherham is mainly funded by grants from the Department of Health and the Department of Communities and Local Government.
But the current grants run out next March and after that the future is uncertain.
Matt Gladstone, assistant chief executive at Rotherham Council, said: "The project has been a phenomenal success. It has really engaged the local community.
"Demand hasn't gone away. We are already taking requests for January and February courses."
He said the council wanted the Ministry to continue and the answer might lie in the project generating some of its own funds.
"We have six months now until the end of March and we have a range of ideas to get more money into the Ministry of Food," he said.
"We are looking at corporate sponsorship, selling teas and coffees and some of the snacks we cook at events and classes."