Trust's £1m campaign for Sheffield woodland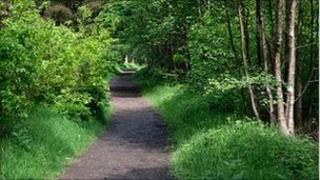 The Wildlife Trust for Sheffield and Rotherham has launched a campaign to raise £1m to buy Greno Wood to the north of Sheffield.
It is one of the largest and most wildlife-rich ancient woodlands in Yorkshire, according to the trust.
It wants to improve the natural wildlife habitats to increase the range of species living there and help them deal with climate change.
It has got two years to raise the money it needs to buy the land.
As well as improving the area for wildlife, the trust has plans to use it as a location to use and promote natural heritage skills such as coppicing and charcoal making.
It also wants to set up educational projects with schools and other groups.
Nigel Doar, the trust's chief executive, said: "Without doubt it is the biggest block of natural woodland, rich in wildlife of all sorts, in Yorkshire.
"It's an absolutely stonkingly good place.
Forest restoration
"The really exciting thing is that we're looking to actively restore the forest to create an inspiring and people-friendly centre for woodland and heathland-related things in North Sheffield for the people of both Sheffield and Barnsley."
The trust estimates the cost of purchasing the wood and bringing it into a good condition for both wildlife and local people is £1m.
It is working with a consortium of local organisations who want to ensure that the land is bought and managed to benefit the groups and individuals who use it as well as improving it for wildlife.
A price of £600,000 was agreed with the previous owner.
A charity, The Esmee Fairbairn Foundation (EFF) and a private investor have come up with the money to take the wood off the open market.
The trust now has two years to raise the funds needed to buy the wood itself and make the planned improvements.