Million pound identity fraud trio jailed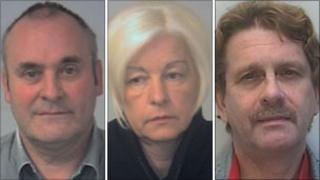 Three people who made more than £1m by fraudulently obtaining benefits, credit and store cards in a long-running identity scam have been jailed.
David Smith and Susan Clarke, of Mortomley Lane, Sheffield, and Dennis Morris, of South Road, Durham, were caught after a three-year inquiry.
They were jailed at Sheffield Crown Court on Wednesday after admitting conspiracy to defraud.
Police described the trio's criminal activity as a "full-time occupation".
Smith, 56, was jailed for five years and Morris, 56, for four years.
Clarke, 49, was ordered to serve 21 months in jail.
They were caught in a joint operation by the South and North Yorkshire Police forces, who discovered that false names had been used to fraudulently obtain benefits, credit and store cards.
A house in Sheffield was raided as part of the inquiry and officers discovered filing cabinets and shelves containing details of dozens of false identities in the loft.
Evidence was also recovered from a second property on Mortomley Lane, where Smith and Clarke lived.
The three pleaded guilty to a range of fraud offences committed between 1995 and 2008.
Smith and Morris also admitted obtaining property by deception, and conspiring to conceal the proceeds of crime.
Smith also admitted a number of firearms offences.
Det Sgt Aaron Day, from South Yorkshire Police's fraud investigation team, said: "It's fair to say this was a full-time occupation for the accused.
"Over a period of years they obtained £1.25m from mainstream financial organisations and in fraudulent claims from local councils."