Clegg rejects call for rethink over axed Sheffield loan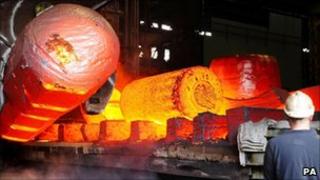 Deputy Prime Minister Nick Clegg has rejected fresh calls to reconsider the decision to cancel an £80m loan to Sheffield Forgemasters.
The coalition government stopped the money, which was approved by the previous Labour administration, on the grounds of affordability.
Cardiff West MP Kevin Brennan urged a rethink during Prime Minister's Questions on Wednesday.
But Mr Clegg, MP for Sheffield Hallam, insisted it was the right decision.
Addressing Mr Clegg in the House of Commons, Mr Brennan said: "Is he now prepared to apologise for the mistake he made about Sheffield Forgemasters and join the Liberal leader of Sheffield City Council in calling for some public finance for this project?"
Mr Clegg, who was standing in for David Cameron at Prime Minister's Questions, said: "It is not affordable under this year's budget, given the structural deficit we inherited was so much greater than we thought."
He added that the loan had been agreed in a "promise made where the money was not available".
Mr Clegg said the government was continuing to work with Sheffield Forgemasters to identify how they could support the business in the future.
He had earlier rejected calls to rethink the decision during an exchange in the House of Commons in July.