Sheffield's lollipop staff shortage revealed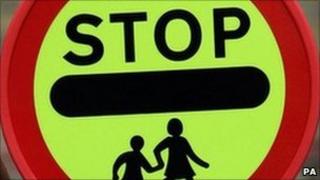 A shortage of lollipop men and women outside Sheffield schools is being highlighted as the city council tries to recruit more.
A quarter of school road crossings in the city are without a warden.
The council urged people to come forward for the posts, saying they would suit parents who already accompany their children to school.
Clive Sargeant, a former fireman who recently joined the crossing patrol team, said: "It's very rewarding".
Mr Sargeant said: "You need to be aware of traffic movements and very aware of children coming from all different directions.
"I was in the fire service for 31 years and on that it's more reacting to bad situations, whereas in this job it's something where you can actually make a difference and prevent accidents from happening."
Shirley Adams, the council's school crossing supervisor, said it was easier to fill vacancies in more rural areas of Sheffield, where residents were more "community minded".
She said: "We have got priority ones [to fill], for example Wincobank School, Newman Road, is a very busy road. We can't get anybody to work on there."
Mrs Adams said she thought the job would suit parents who already take their children from school.
She said: "You tag on 20 minutes to half an hour to that and you are getting paid for taking your children to school.
"The hourly rate is actually very good, it's £7.19 an hour. That's a lot more than a lot of big department stores and supermarkets etc."