Sheffield Forgemasters suspends nuclear parts plan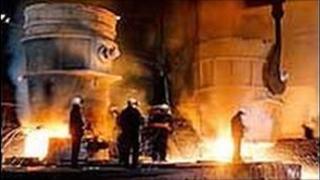 A manufacturer which had an £80m loan cancelled by the new government has shelved plans to buy equipment to make parts for nuclear power stations.
Sheffield Forgemasters' chief executive said efforts to secure funding for the 15,000-tonne metal press would be suspended "for the time being".
The previous government had pledged the cash to Forgemasters, but the new government withdrew it last month.
Some MPs have said pulling the loan would have a "devastating" impact.
About 200 jobs would have been created, but the loan was cancelled as part of a package of spending cuts designed to save £2bn.
Chief executive Graham Honeyman said although the development was being suspended, the company hoped to return to the project in the future.
In statement, Mr Honeyman said: "We are still keen to undertake the 15,000-tonne press development but feel that the company's best interests will be served by suspending work on the project for the time being."
He added: "This pause will give the company, which has invested more than two years and significant funds to the project, time to resume a greater focus on growing our business into civil nuclear and other sectors."
The statement continued: "The company recognises the difficult financial position faced by the country and accepts the loan offer will not be reinstated."
Business Secretary Vince Cable said: "I understand that this outcome is disappointing for the company and its employees, who have acted very professionally and responsibly throughout.
"I will keep the situation under review and reconvene the meeting of experts with the Sheffield Forgemasters Board when they are ready, to review the investment potential with the company."