Hinkley B: UK's most productive nuclear power plant closes
By Dave Harvey
Business Correspondent, BBC West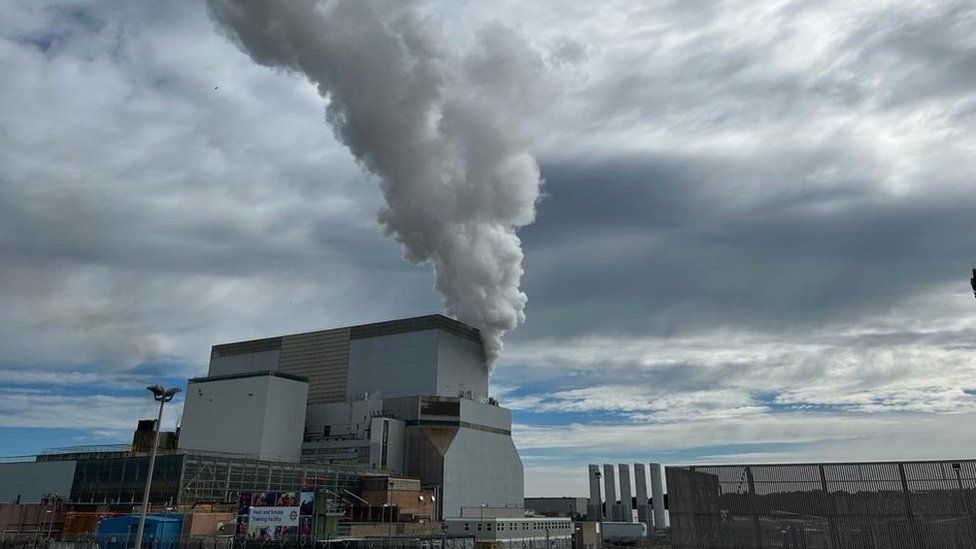 The nuclear power station that has generated more electricity than any other has been switched off.
Hinkley Point B in Somerset has been making power since 1976 and currently contributes about 3% of the UK's total power needs.
Switching Hinkley off will mean more electricity made from gas, which is at a record high price at the moment.
Industry experts have predicted the cost of energy in the UK will have to rise as a result.
So why has it been switched off, and what are the consequences?
What is behind the switch off?
Hinkley B has, simply put, reached the end of its life. When it was planned in the 1960s it was expected to operate only just into the new century.
The first switch-off date was then planned for 2016, but careful management of the technology kept it running. In 2012 EDF, the energy firm that owns the plant, announced that it could continue safely until 2022.
EDF said: "Hinkley B has reliably produced zero carbon electricity for over 46 years, more than 15 years longer than envisaged when built, and will complete its generating phase as the most productive nuclear site the UK has ever had."
How big an energy gap will it leave?
Hinkley B has boiled the equivalent of 100 billion kettles.
Over its 46 years it has generated 311 terawatt hours, or 311 billion kilowatt hours, to use the units we see on domestic energy bills.
That's enough to power 100 million homes for a year at average UK usage.
It's a significant contribution. Before Hinkley B shut down, nuclear made up about 14% of the energy used every day, and a fifth of this came from Somerset. There are now only four nuclear sites left in the country, and they cannot increase their output.
So, the only way to make up the shortfall will be more gas power. The result, say energy experts, is unavoidable price rises.
Henry Edwards-Evans is an editor at the energy specialists, S&P Global.
He said: "If you take a generator out of the market that's fully paid off, and doesn't have the gas price premium that replacement power will have or the carbon cost, then yes the wholesale price will rise."
What's more, the UK currently exports electricity to France, because French nuclear power is also declining. So, switching off Hinkley B will affect the whole continent, Mr Edwardes-Evans said.
"If you worsen the UK nuclear availability you've got less wiggle room to choose the cheapest sources of power and keep prices down not only in the UK but also in all of north-west continental Europe."
Can we get any more nuclear power?
The first nuclear reactor opened at Hinkley Point in 1965. Since then, apart from occasional pauses for inspection and maintenance, nuclear electricity has been generated on the west Somerset coast every year.
Hinkley A was switched off in 2000, and since then EDF have been trying to build a replacement, Hinkley Point C.
Long debates over how to pay for it, and whether the country wanted it at all, meant construction did not begin until 2016. The Covid pandemic slowed construction, and the company now hopes to turn the turbines on in 2027, leaving at least a five year gap.
There are plenty of people who hope Somerset's nuclear gap will last forever.
For decades, a local group has campaigned against nuclear power in the area. One of their spokespeople, Roy Pumfrey, points out that while generation will stop at Hinkley B, there is still years of work clearing up nuclear waste.
He said: "Some of the timescales for managing the waste left over by Hinkley B are truly staggering. Under current plans it will be 100 years before all this dangerous waste is under the ground.
"Monday should not be a day to celebrate the life of [Hinkley Point B].
"Rather, it's a day to mourn the production of radioactive waste that is going to have to be carefully and expensively managed and monitored for many generations to come."
What will it mean for Somerset?
Switch-off will be a day of "mixed emotions" for the people who run the power plant, according to station director Mike Davies.
He said: "There is much to be proud of. This tiny corner of Somerset has produced huge amounts of zero-carbon electricity, supported and enriched our community by providing thousands of well-paid, high skilled jobs."
Today, 750 people work at the plant, often whole families have made their lives there.
Mark Langston started work 24 years ago in security, and then did an engineering degree at the company.
He said: "It was quite nice because Dad was already here in the control room, Mum was working as a guide. I've got cousins on the A site, and an uncle on the B site, so it's a real family affair."
Staff will be busy for three years removing the fuel, which is then processed and placed in special flasks. These will then be transported to Sellafield in Cumbria for storage.
Then the site in Somerset will be handed over to the Nuclear Decommissioning Authority who manage the long process of cleaning up a nuclear site.
While the formal safety protocols mean Hinkley B's life cannot be extended again, many of the staff feel the plant is still in rude health. Pete Bryan has been there 34 years, and is now a supervisor.
He said: "It's the end of an era, it's sad really. The end has got to come sometime but it's just really unfortunate, because it does feel like there's life left in the plant."