Man walked every street in Portishead for RNLI fundraiser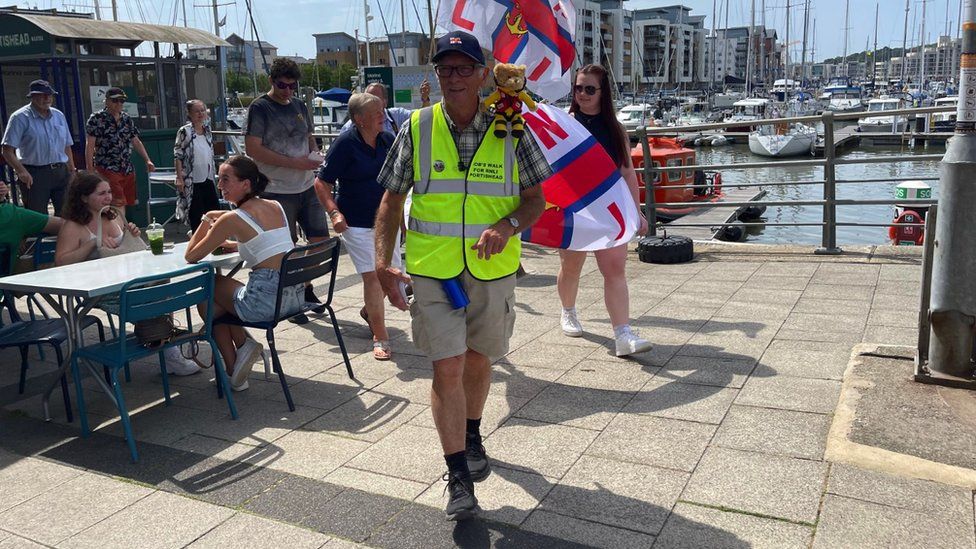 An 80-year-old man has walked every street, road and track of his local town in a fundraising challenge for the RNLI.
Mr Crane raised £2,890 for the town's lifeboat crew.
The former lifeboat operations manager said: "The pinnacle of all of it was the lovely people I met."
On the final day of the challenge, Mr Crane was accompanied by members of his family and volunteers from RNLI Portishead.
According to the exercise app Strava, by the time he finished the challenge, he had walked 131.26m (211.24km) and gained an altitude of 8,019ft (2,444m).
Mr Crane said he was inspired to do something "that hadn't been done before" in the run up to his 80th birthday.
After walking more frequently during lockdown, he decided to embark on the challenge.
"I wanted to raise awareness that we're the only emergency service that does it all for free.
"It's a tremendous commitment and we've always had an incredible team from all walks of life," he said
Mr Crane said the best parts of the "interesting experience" were getting the opportunity to explore new parts of Portishead, see the history of the town, and meeting people along the way.
He added: "I'd like to be able to thank everybody for their generosity - not only the money they've given but for the well wishes and kind thoughts they've given to me.
"It's not only Portishead. Within minutes of being on the radio, somebody from Wells had heard and donated £50.
"People have listened to me when I've talked to them and told them what we do."
Although his walking challenge has concluded, Bob's JustGiving page for RNLI Portishead will be collecting donations until September.
Related Internet Links
The BBC is not responsible for the content of external sites.