Somerset: Funds agreed to protect road from falling into sea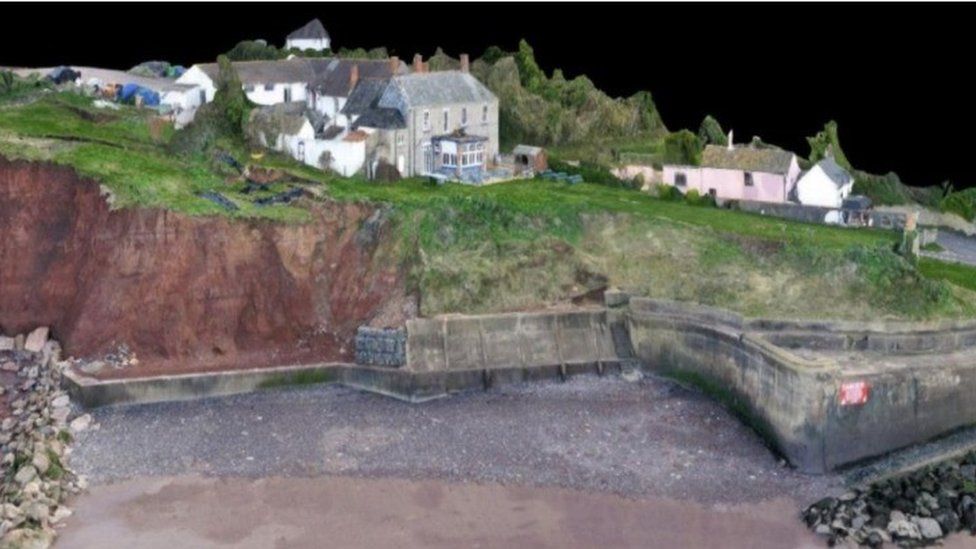 Work to protect a vital coastal road from falling into the sea is set to go ahead after the final funding was agreed.
Somerset West and Taunton Council carried out emergency repairs to the sea defences at Blue Anchor, in Somerset, in late 2020 to protect the B3191 and a nearby pub.
A permanent scheme to protect the road and nearby properties has been agreed.
The works are set to go ahead before the winter.
The existing sea defences at Blue Anchor are a mixture of angled concrete walls, constructed between 1920 and 1980.
The council undertook the first phase of emergency repairs after two "significant" holes in part of the wall were discovered in June 2020.
In November 2020, 1,800 tonnes of granite rock armour were delivered to Blue Anchor Bay by boat for the second phase of repairs, designed to shore up the base of the cliff to prevent further landslides.
Both stages of emergency repairs were funded by the Environment Agency (EA) to the tune of £385,000, to ensure Blue Anchor was protected during the winter storms.
The new, more permanent scheme will see more rock armour installed along this stretch of the coastline, with mesh and turf being used to re-profile the cliffs to prevent future cracks or landslides.
The contract for the works was awarded to the Kier Property Group in April.
Apart from a £50,000 EA grant, the funding will come entirely from Somerset County Council, which has responsibility for highways but asked the district council - which is responsible for coastal management - to manage the scheme.
The final cost of the scheme will be £3,762,280 - lower than the £4m which was expected, but higher than £3.55m which was originally committed by the district council in December 2020.
The £262,280 of outstanding funding needed for the scheme to proceed will also come from the county council.