Glastonbury festival clean-up begins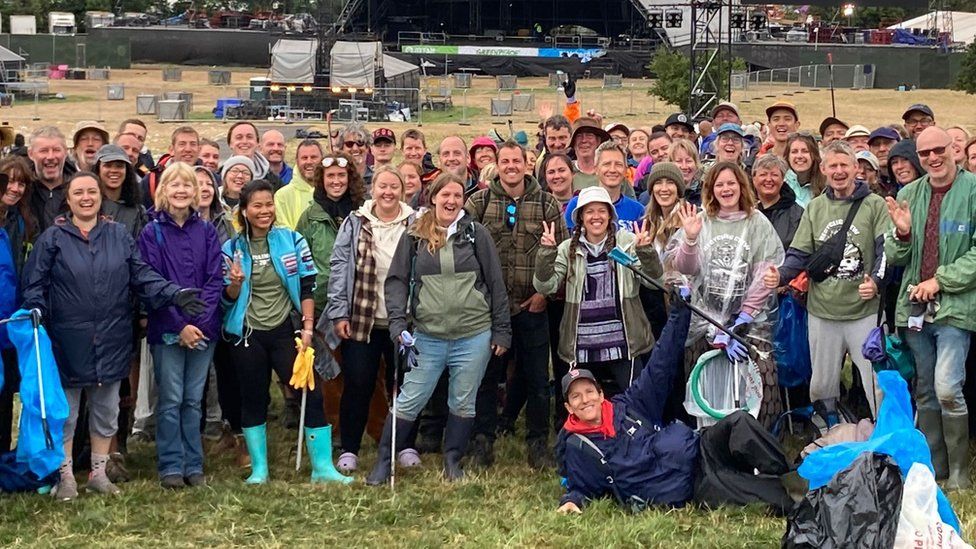 The clean-up of Glastonbury Festival has begun following a successful return after a three-year hiatus.
The five-day festival was postponed due to coronavirus and ended on Sunday.
Addressing visitors climate activist Greta Thunberg warned the earth was "not just changing, it is destabilising, it is breaking down".
The event was headlined by Paul McCartney, Diana Ross, Billie Eilish and concluded with Kendrick Lamar's speech on women's rights.
The famous clean-up is now under way and hundreds of volunteers are helping to remove rubbish from Worthy Farm.
The party is over and the packing up has begun. Hundreds of people are pouring through the gates - with queues forming at the bus station.
There are a lot of tired faces here this morning. People are carrying and dragging bags, tents and sleeping bags - everything they've been using in their makeshift Glastonbury homes.
It's quiet as most people are concentrating on the job in hand.
But speaking to people their faces light up when they talk about their Glastonbury experiences.
There's an overwhelming sense of a brilliant time had by all. People partying with friends in a way they haven't since the pandemic hit.
Today will be hard for most people getting home but I think they'd all agree it was worth it.
As thousands of campers leave, the festival crew's recycling team is dedicated to removing an estimated 2,000 tonnes of waste to return the farm to its previous condition.
Co-organiser Emily Eavis urged people to help leave beautiful Worthy Farm "in the state that it deserves".