Fans brave rain for McCartney's warm-up Glastonbury gig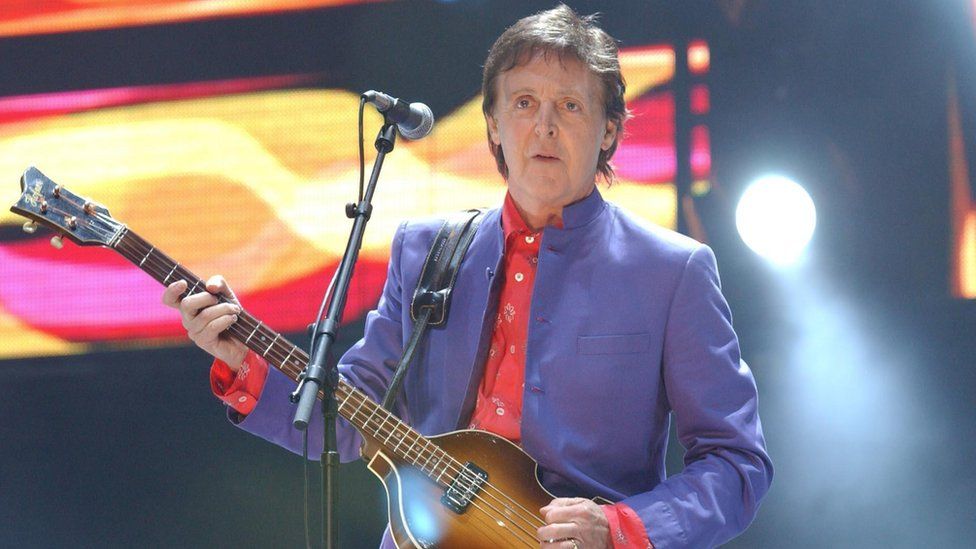 Sir Paul McCartney's Glastonbury warm-up gig drew crowds of ticketless fans who braved the wet weather to listen from outside.
Hundreds of people descended on the Cheese and Grain entertainment venue in Frome, Somerset, to catch a glimpse of the former Beatle on Friday.
The gig came before Sir Paul, 80, is set to become Glastonbury's oldest headliner on Saturday.
Beatles superfan Jenny McDonald said you could "get the gist" from outside.
The marketing manager, 46, moved to the Somerset town four years ago but hails from Liverpool and "grew up with the Beatles".
She said that you could "sort of hear them play" from outside but that the not-for-profit venue has improved its soundproofing since the FooFighters played a similar warm-up gig there in 2017.
She captured a video of Sir Paul arriving at the venue in a black BWM as the crowd cheered.
Ms McDonald said that midway through the gig the venue "opened one of the side doors and we could hear a bit better after".
And while a lucky few managed to get tickets, many had to content themselves with watching from afar.
Self-professed superfan Jane Lamb stood opposite the venue holding a Beatles scrapbook she had made aged eight, in the hope Sir Paul would come out and sign it after his show.
The 68-year-old, from Frome, said: "This is one of four scrapbooks I made between the ages of eight and 10.
"I'm hoping if I don't get to see him at least I have this version of him."
Jackie and Martin Moss and their grandchildren were also among the crowds trying to catch a glimpse of the singer after missing out on tickets.
The couple explained that they had attempted to get tickets after the shock gig announcement on Thursday but described gridlock in the town.
Ms Moss said: "The roads were rammed... the police had to arrive as you had to come in person and gets tickets."
Sir Paul last played the Pyramid Stage in 2004.
This year's music offering also features headliners Billie Eilish and Kendrick Lamar, with Diana Ross filling the Sunday Teatime Legends slot.