Somerset teacher felt like 'trafficker' when trying to host young refugee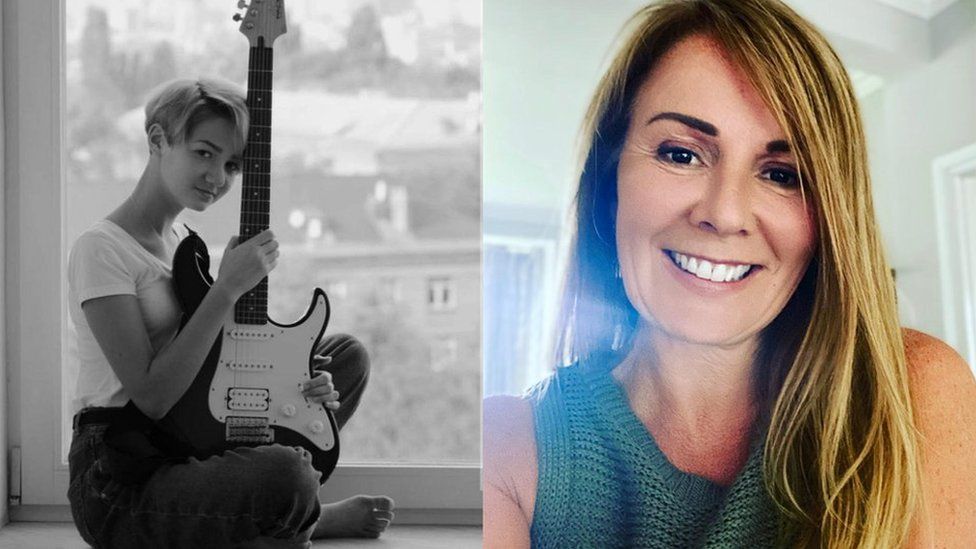 A teacher has said she was made to feel like she was "trying to legitimise child trafficking" while trying to help a teenager escape the war in Ukraine.
Deanne Campbell, 52, from Somerset, wanted to host 16-year-old Anastasiia, but faced difficulties bringing an unaccompanied minor to the UK.
She said she was trolled online after asking for advice on social media.
Mrs Campbell, who lives in Stocklinch, near Ilminster, first applied to bring Anastasiia to her home in March.
The teenager had fled Kyiv with her mother and two-year-old sister shortly after the Russian invasion of the country, going on to stay on people's sofas in Montenegro.
At the time, unaccompanied minors could not come to the UK under the Homes for Ukraine visa scheme.
"I've been treated like I'm trying to legitimise child trafficking or something," Mrs Campbell, a professional flautist and teacher, said.
"I've had so many confrontational e-mails back from people, as if I'm doing something dodgy by just trying to help this girl, and I've been trolled on some of the Facebook groups.
"I'm just trying to help someone here."
Somerset County Council said that in April they had always assumed unaccompanied minors would not be eligible, but that it did not have "clear guidance" until a letter from the Department for Levelling Up, Housing and Communities arrived later that month.
A Government spokesperson said at the time: "Due to safeguarding requirements, unaccompanied minors are only eligible under the Homes for Ukraine scheme if they are reuniting with a parent or guardian in the UK."
On 22 May Anastasiia was finally allowed to come to the UK, on the condition that her mother flew over to drop her off.
The new guidelines mean that others will be able to follow, and those who have already applied and are waiting will be written to by the Home Office this week.
Despite the difficulties faced by Mrs Campbell, she said it has all been worthwhile.
She added that she hoped her story would inspire others wanting to help young Ukrainian refugees persevere.
"I think there are hosts out there that are literally at the end of their tether, and I want to show that not only can you get them over, but they're really happy," Mrs Campbell added.
"I said 'is living here all that you hoped it would be?' and she said 'yes, definitely, and a lot more'."