Glastonbury Festival-goers pay tribute to those lost to Covid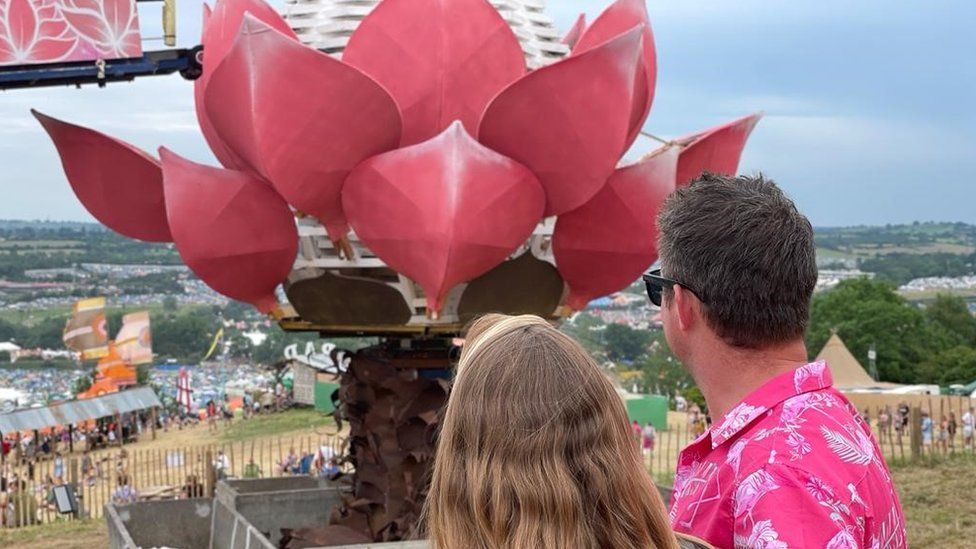 Glastonbury Festival-goers have been paying tribute to loved ones lost during the Covid-19 pandemic.
People are being encouraged to write messages to late family and friends and place them in a giant lotus flower sculpture at Worthy Farm in Somerset.
The 40ft (12m) sculpture, designed by artist Joe Rush, will then be burned in a ceremony on Sunday.
The festival said the burning lotus aims to "unite people after isolation and offer reflection and release".
Adele Mason, who lost her baby last November when she went into hospital to be induced, placed a photo of her daughter into the lotus.
Ms Mason caught Covid at 34 weeks and was told by doctors that it caused a blood clot in her placenta, which is thought to have contributed to the loss of her daughter.
"She's obviously meant to be here and it's in her memory, so that she's a part of being here," Ms Mason said.
"It might help a little bit towards the healing as it's still very early days."
Clinical psychologist Dr Sophie Augarde worked in a hospital through lockdown and said she sees Glastonbury as a turning point.
"It was quite intense," she said.
"Obviously we were seeing a lot of patients who were really traumatised and having to do a lot of the hard stuff on their own, without friends or family.
"It's the first time in a long time where we've all been together and it's felt safe. Kind of like we're allowed to have fun again."
In a previous statement, Glastonbury co-organiser Emily Eavis said: "During the Festival, people will be encouraged to write down memories and images of people or situations that they wish to let go of.
"It may be people who died in the lockdown who were not properly said goodbye to, it may be failed business projects, may even be failed marriages, but the point is that all of these things will be focused on and then placed inside the Lotus."
It is hoped the burning of the lotus will be "a cathartic moment and one that many of us need", Ms Eavis said.
Related Internet Links
The BBC is not responsible for the content of external sites.