Chard floods: more road maintenance needed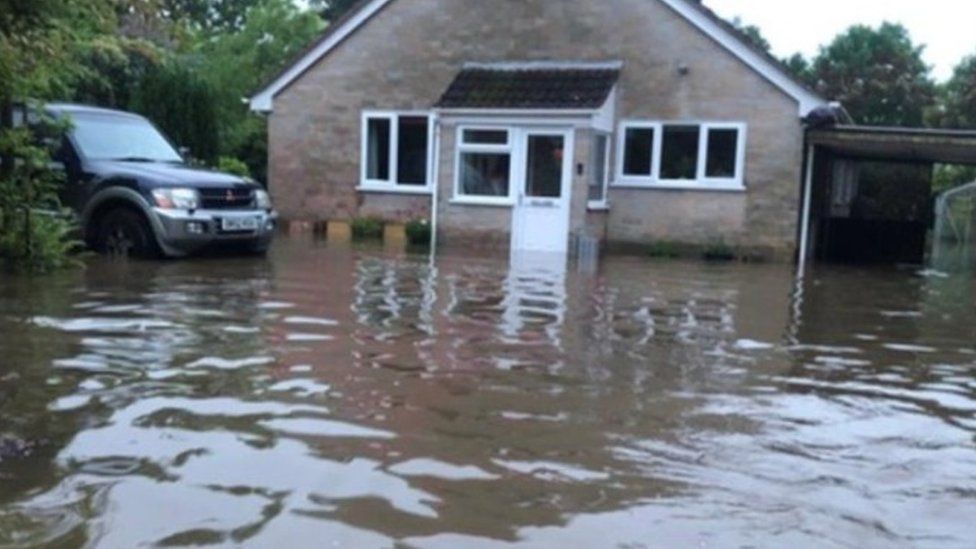 An official report into why a Somerset town was ravaged by flooding in 2021 has been published.
Severe rainfall led to river water tearing up roads and flooding homes in Chard last June.
A full report by Somerset County Council said flood defences and drainage would not be enough to prevent a recurrence.
It called for more frequent road maintenance and tighter standards for new housing developments.
It outlines the extent of the damage caused by the floods including to the A358 Furnham Road, the Glynswood residential area and the roads at the western edge, the Local Democracy Reporting Service, (LDRS), said.
Jess Power, the council's lead specialist in strategic planning, said: "The overarching problem was the sheer volume of rainfall.
"This was well beyond what any residents of the area had seen in their lifetimes."
The report said the amount and intensity of rainfall which occurred in Chard had a "0.3% chance" of happening in any one year, based on previous Met Office data.
Council officers who worked on the ground during the relief effort said the rain was so intense that it reduced visibility down to five yards (4.5m), with one source commenting that it was "like working in fog".
It also stated that numerous gullies through the town were reported as being blocked, and the sewage system was "overwhelmed with rainwater".
In terms of solutions, the report said that building better flood defences in the town centre would not help to solve these underlying problems.
"Just building higher defences and bigger drains will not be enough. A more creative and sustainable programme of measures is needed."
The report recommended changes such as high standards for new developments, improved communication and implementing local flood prevention measures.
Numerous councillors representing Chard, Ilminster and the surrounding villages gave their views at the area's west meeting.
Councillor Martin Wale said landowners needed to take responsibility to prevent water running down into the Chard basin.
He said: "Mitigation can be done, but this is not going to prevent a similar event from happening."
Councillor Sarah Dyke gave assurances that the report's recommendations would be implemented at speed.
She said: "The flooding events in Chard and Ilminster last year were absolutely horrendous - there are people still being displaced because of the events of that flooding. That needs to be taken extremely seriously and we need to sort that out as a priority."
Related Internet Links
The BBC is not responsible for the content of external sites.