Glastonbury Festival: Half of all trains to site cancelled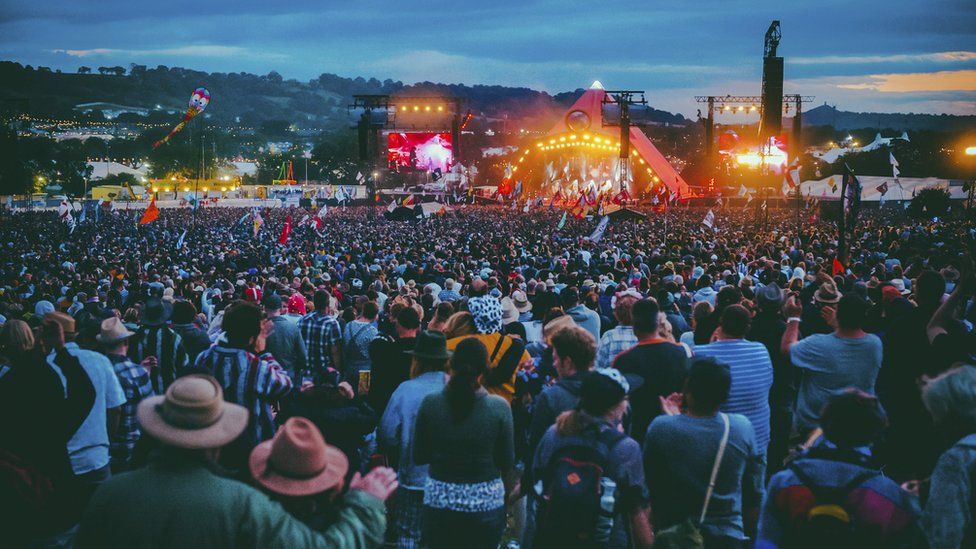 More than half of the trains from London to Glastonbury Festival have been cancelled due to strike action.
The Somerset festival is finally celebrating its 50th year this week after the coronavirus pandemic forced organisers to cancel twice.
More than 200,000 people will travel to the site which opens on Wednesday.
Disruption is expected on non-strike days due to too few staff working - although many of the services to Castle Cary, the closest station to the festival, are specially-run trains.
Great Western Railway (GWR) is operating only five services from London Paddington to Castle Cary on Thursday, with a total of 24 between Wednesday and Friday.
Before the industrial action was announced, 51 trains were expected to run on the route over the three-day period.
But, GWR said in total 58 services from London and elsewhere will call at Castle Cary which could carry 8,000 people in total.
The operator said it "plans to maintain timetabled trains" throughout the course of the week.
It added that some train times may be altered "and we will be in contact with customers who have already booked seats on board those trains".
National Express, the official coach partner of the festival, will carry more than 30,000 music fans to and from the site but a spokeswoman warned of congestion in the surrounding area.
She said there was a "significant increase" in both inquiries and bookings around the dates of the strikes, "including on routes that provide travel to Glastonbury".
"We are working hard to increase availability to meet additional demand where possible. Seats are selling fast, so the advice is to check services and book in advance," added the spokeswoman.
She explained that the coach company was prepared to be busy but recommended that customers allow "plenty of time" when planning their journey.
The Glastonbury line-up includes new acts such as Arlo Parks, Doja Cat, Easy Life, Fontaines DC and Griff alongside more established names including Crowded House, Primal Scream and Supergrass.
Glastonbury 2022 takes place from 22 June to 26 June.
Related Internet Links
The BBC is not responsible for the content of external sites.