'Rare' Beatles' memorabilia sells for £11k at auction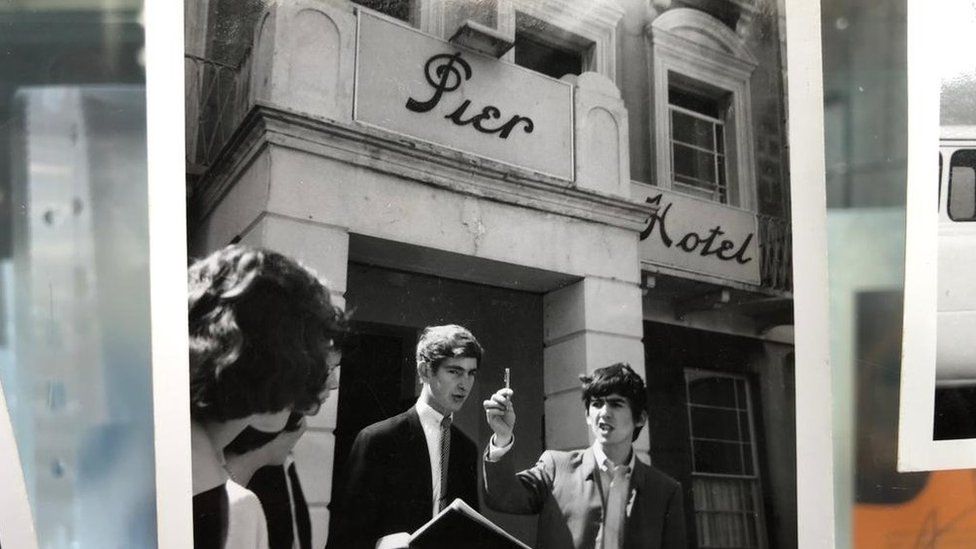 A collection of previously unseen memorabilia of the Beatles before they became famous has been sold at auction.
It includes photographs taken when the band played in Weston-super-Mare, Somerset, in 1963.
A huge fan of the Fab Four, 16-year-old Sandra Woodruff (nee Blaken) tracked the group down, after a tipoff, to room number 49 at the Royal Pier Hotel.
"It's so rare to find things signed by all four of them," said Andrew Stowe from East Bristol Auctions.
"There is no other collection on the planet as unique or as important," he added.
John, Paul, Ringo and George were about to take the international music scene by storm in 1963.
"I guess they were enjoying the attention because it was the early days for them.
"A couple of months later and we would never have got near them," said Mrs Woodruff.
"When they came on the radio we used to scream and my Dad would say, 'Oh, good Lord, it's the Beatles again," she added.
The group performed two gigs a night at the town's Odeon Cinema.
Mrs Woodruff had a ticket to one of the shows and said: "We asked the lads running the ghost train 'Do you know where the Beatles are staying?'
"They said 'If you buy us some fags, we'll tell you.'
"So we bought them 10 Woodbine each and they said the 'Royal Pier Hotel," she added.
Mrs Woodruff and a friend managed to sneak into room number 49.
"No doors were locked. So we went in and I thought, I've got to take something that they won't be cross about.
"In the wardrobe there was a big pile of white pants, new ones, a big pile and in between was a card, so I pinched that and got it signed," she added.
The collection attracted £11,360 at auction.