Exmoor: 'Stunning' bluebells hint at a wooded past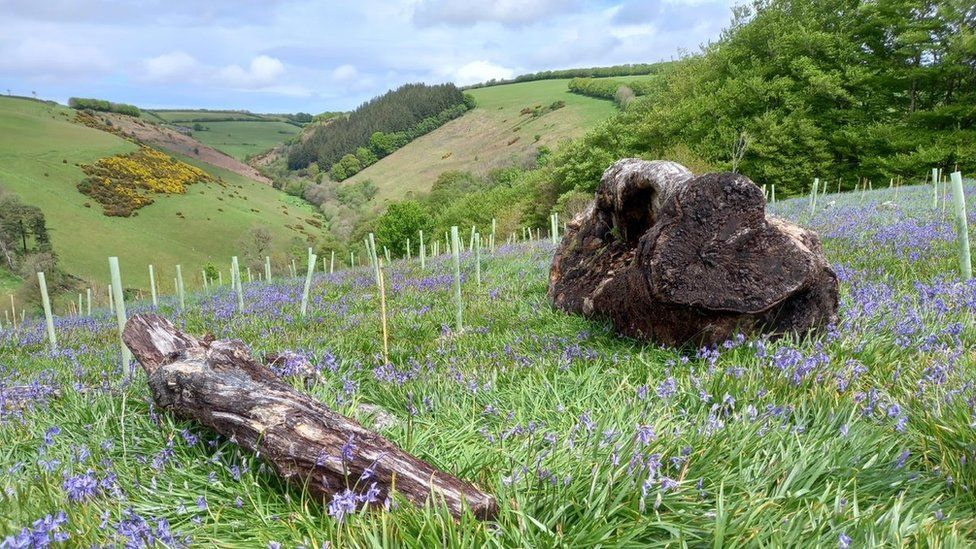 A sea of bluebells have suddenly flowered on a hillside on Exmoor for the first time in hundreds of years.
National Park officers believe the plants have lain dormant at Bye Wood, near Winsford in Somerset, for centuries.
Clearance work has been going on since last year to create new woodland.
As a result, the disturbance has prompted the ancient bluebell bulbs to start sprouting and suggests the site was once completely tree covered.
Exmoor rangers are currently more than halfway through clearing and planting a new 12 hectare woodland at Bye Wood.
Planting began last winter with 8,000 trees already in the ground, including a special grove of 70 locally-grown sessile oaks planted by volunteers to commemorate the Queen's Platinum Jubilee.
It has been an open hilltop for centuries, but park officers believe the sudden emergence of bluebells there suggests the site may once have been covered in trees.
Senior woodlands officer for Exmoor National Park Authority, Graeme McVittie, said it "looks absolutely stunning".
"We had no idea there was going to be this huge display this spring. The bluebells must have persisted beneath the bracken for several hundred years since it last had a tree canopy.
"These are ancient woodland indicators, so we are in a sense re-creating the conditions for an ancient woodland."
Jack Hunt, woodlands assistant, added: "Since we've started controlling bracken and planting trees, the suppressed bulbs have re-activated, and flowering bluebells have carpeted the site.
"As our new trees grow, they'll provide dappled shade and help to maintain and diversify the new woodland's ground flora."
Related Internet Links
The BBC is not responsible for the content of external sites.