Is Hinkley Point C to blame for rising house prices?
By Dave Harvey
Business Correspondent, BBC West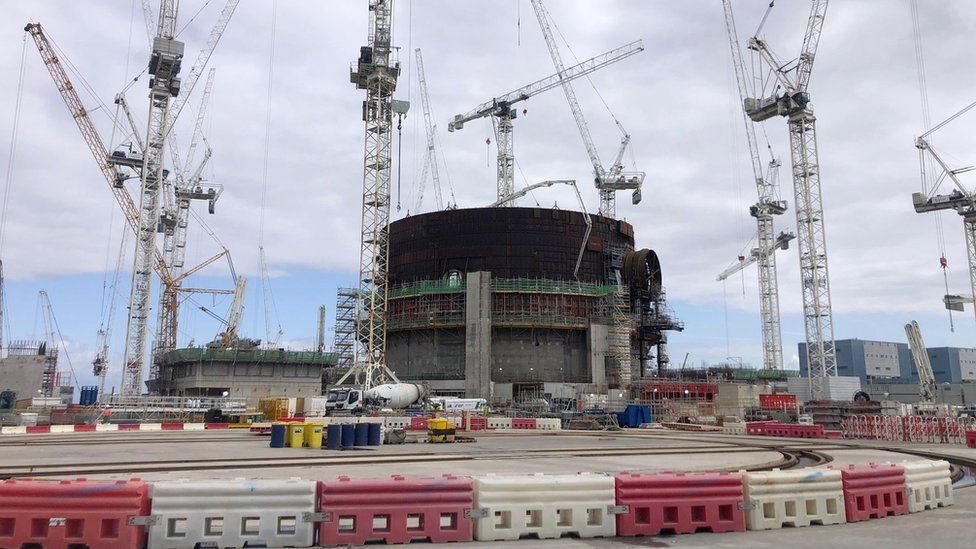 Europe's biggest building site is busier than ever, with more than 7,700 workers at Hinkley Point C in Somerset.
It's brought jobs and prosperity to the South West but there are fears the huge project is pushing house prices and rents up.
The company building it has invested millions of pounds into local housing schemes but is it enough?
Roger Habgood is a district councillor who broadly supports Hinkley's nuclear build but insists people must be honest about the impact all those well-paid workers are having.
House prices in Taunton rose by 20% last year, and while he accepts other factors such as people moving from the South East during the pandemic and a shortage of house-building, he suggests there is a "Hinkley element".
"It's not just the Hinkley workers themselves. It's the people who work for the suppliers and the companies that supply them. It's a pyramid and Hinkley is at the top of it," he said.
Is a huge infrastructure project like this good news for everyone? Or is there a cost for those who can't get a slice of the action?
I have been visiting the project since it was just a large muddy field. Today, there is a forest of cranes.
At the centre two huge steel rings rise up. In a few years time they will hold Hinkley's two nuclear reactors, providing 7% of the UK's electricity.
At the bottom of Reactor One sits a circular steel cage about 15m (49ft) across. It will soon be filled with concrete, forming a strong ring like a giant donut which will hold the reactor itself.
All around there are people welding steel, checking and rechecking measurements.
Where do they come from? My guide on site is from Middlesbrough. Walking around you hear voices from Scotland, the Midlands and Wales but unusually on a huge site like this many are local.
EDF's community relations manager, Andrew Cockroft, said the firm is proud of its local recruitment.
"Forty per cent of the people working here are from the local area. We've been working with local job centres and investing in training to make that happen," he said.
In Bridgwater, the nearest big town, a job centre has been set up, running recruitment days and training events.
The ripples from Hinkley spread far and wide. Laura Fowler runs the employment outreach service for Sedgemoor District Council.
"There's been a lot of new business coming into the area, what we class as associated development. So people who don't want to work at Hinkley itself can still get opportunities," she said.
The jobs are not all hard hat and high vis either.
With thousands of mouths to feed Hinkley has four on-site canteens. Catering company Somerset Larder was set up to produce food from local suppliers before buying in from national firms.
In all EDF has spent £4.1bn on supply contracts with South West-based firms.
There's no doubt the project has created hundreds if not thousands of jobs in Somerset and brought new business to hundreds of local firms, but are rising house prices the cost?
It's impossible to separate all the factors but most believe Hinkley has contributed to the sharp rise.
EDF has put £9m into a local affordable housing fund which it says will create 4,000 extra bed spaces.
"That is four times more than the extra beds we will need this year and of course the homes will be there long after we are gone," Mr Cockroft said.
Related Internet Links
The BBC is not responsible for the content of external sites.