British man Jim Fitton could face death penalty in Iraq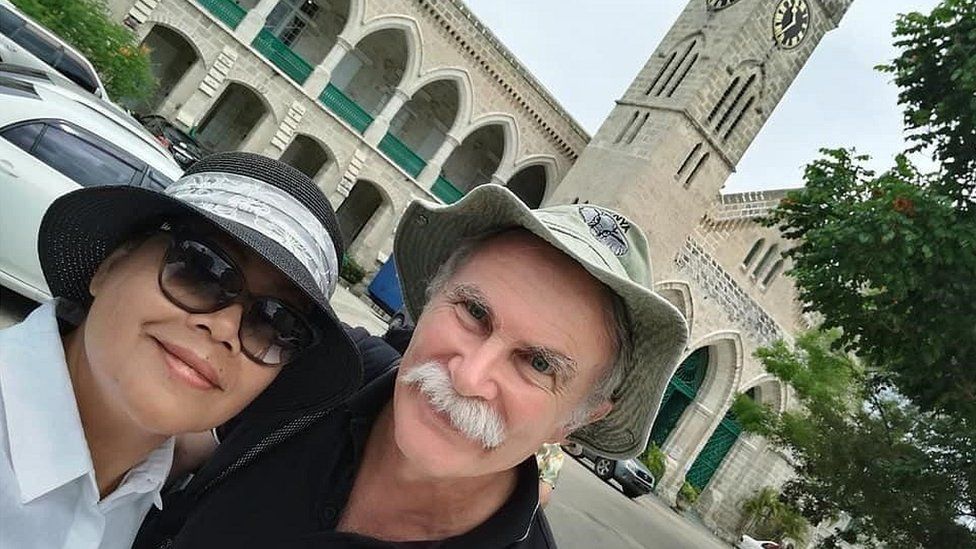 A retired British geologist could face the death penalty in Iraq after being accused of attempting to smuggle historic artefacts out of the country.
Jim Fitton, 66, was on an archaeology tour, where he collected some stone fragments.
His children, Joshua and Leila, from Bath, said he had "no knowledge" that they were of "historic significance".
The Foreign and Commonwealth Office has said it is providing support to a British national in Iraq.
Mr Fitton's family say the statutory punishment for illegally smuggling historical items out of Iraq is execution.
"Everybody is absolutely heartbroken, we are terrified," said Sam Tasker, Mr Fitton's son-in-law.
Mr Fitton picked up the stone fragments from Eridu, a historically famous archaeological site in southern Iraq.
According to his family, the fragments he collected were "in the open, unguarded and with no signage warning against removal".
Tour members were told that the broken shards had "no economic or historical value", they said.
"To him this was no more significant than bringing home a small stone from the beach," said Mr Tasker.
Jim is facing the death penalty in Iraq. He has been detained and is due to stand trial in May.

Please help free Jim by urging the the Foreign Office must do everything they can to save his life and bring him home. #FreeJimFitton https://t.co/4z1t0vLETl

— Wera Hobhouse MP 🔶 🇺🇦 (@Wera_Hobhouse) April 28, 2022
Ms Fitton said her father, who lives in Malaysia, was then arrested on 20 March after his tour group's baggage was checked at the airport.
A German man who was also on the archaeological tour was apprehended at the same time.
"Now he [Mr Fitton] is facing a potential death sentence, I just can't quite believe what's happening. It doesn't feel real," she added.
The family said Mr Fitton is due to face trial on 7 May and are calling on the Foreign Office "to make a difference".
"We have days to save him and our lawyer has drafted a proposal for cessation of the case," continued Mr Tasker.
The proposal requires the backing of the Foreign Office to put to the Iraqi judiciary.
Mr Tasker's local MP in Bath, Wera Hobhouse, said she has asked ministers to respond to the "incredibly serious" issue.
"The situation surrounding Jim Fitton and his German counterpart is deeply worrying," said Ms Hobhouse.
"I am committed to doing everything I can by working with the Government to secure the release of Jim."
In a letter to Ms Hobhouse Foreign Office minister Amanda Milling said: "We understand the urgency of the case, and have already raised our concerns with the Iraqi authorities regarding the possible imposition of the death penalty in Mr Fitton's case."
A petition to free Mr Fitton has already been signed by more than 50,000 people.
Related Internet Links
The BBC is not responsible for the content of external sites.