Brexit and Covid cause big jump in pay for lorry drivers
By Dave Harvey
Business Correspondent, BBC West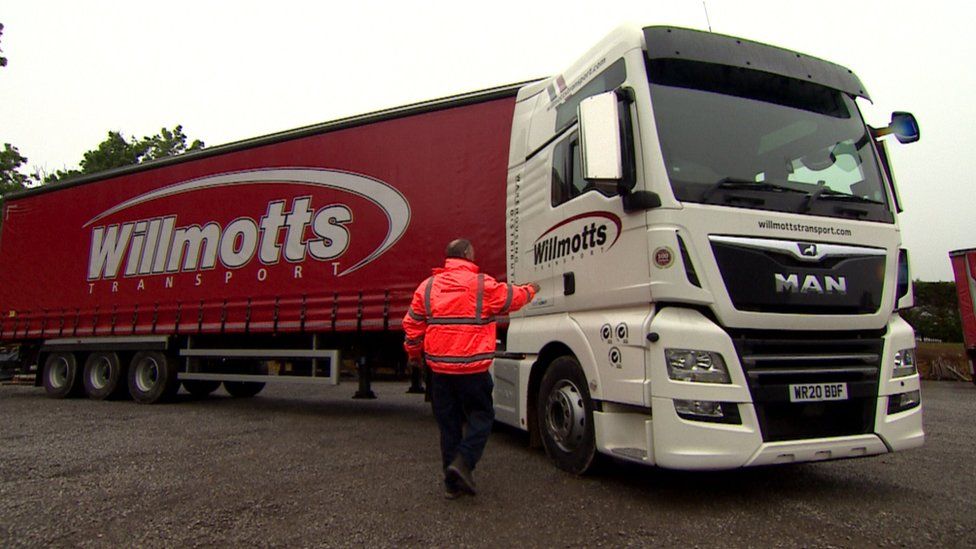 Freight companies are reporting a "massive" shortage of lorry drivers, which is pushing up wages, and will increase prices of goods in the shops.
It is partly because of the pandemic, which delayed 30,000 tests for new drivers. Companies also blame Brexit, pointing out that 15,000 European truck drivers left the UK in the last year.
But whatever the causes of the shortage, its impact is being felt across the country.
When I dropped into Wrings, a family-owned haulage firm near Avonmouth, just outside Bristol, the boss was out.
Stuart Wring, whose dad Royston started the business, was himself driving a lorry to cover staff shortages.
Instead I met his operations director, John Cook, who had stayed in specially.
"If it wasn't for me doing the interview today, I'd be driving myself to be honest," he said.
"We're driving ourselves every week now just to keep trucks on the road."
Britain is short of around 60,000 lorry drivers, according to The Road Haulage Association. The Freight Transport Association said there were 320,000 drivers in total in the UK in 2020.
The laws of supply and demand are in full swing, pushing up wages.
Big supermarket chains, desperate to ensure their food gets to their stores, are offering drivers nearly double the going rate.
Small firms have had to compete to stay on the road.
Mr Cook told me they have just given their drivers a 25% pay rise.
He said: "That's a lot of money, and we are retaining our drivers and bringing new employees into the company. But we have had to pass that cost onto our customers."
Other firms have decided they can't do that, because their customers will not pay more for haulage.
In Shepton Mallet, Somerset, I met Dan Gray, commercial director of Willmotts Transport.
They run trucks across Europe, but now have up to 10% of their lorries parked up idle every day.
Like many transport firms, Willmotts had a steady supply of drivers from eastern Europe over the last two decades. But last year, that all changed.
When the pandemic struck and European trade slowed down, drivers were furloughed.
Many went back to their home countries, to be with family.
"Since the effects of Brexit, they haven't wanted to come back," explained Mr Gray.
"They can earn just as much in Germany, France or Poland, so there's no real need to be in the UK."
Since 1 January, EU citizens are covered by a new immigration system, which gives priority to high-skilled roles.
So although it was Covid that made European drivers leave the UK, the new post-Brexit rules have stopped them coming back.
The Home Office said employers should "focus on investing in our domestic workforce, rather than relying on labour from abroad".
Does all this matter? It is clearly a problem for people like Mr Gray and Mr Cook, with no shortage of companies with goods that need moving, but not enough drivers to do the jobs. But will anyone else notice?
"It's food on the shelves, it's drinks on the shelves," said Dan Gray.
"It's your online shopping getting to the warehouse.
"If we're not delivering product, the shops won't be full and that will have a massive impact on the UK."
In Somerset, it is already causing direct problems for residents with some bin collections delayed.
Not all lorry drivers sit behind the wheel of a long distance artic, with many driving the everyday recycling lorries.
"We're about 25 drivers down, out of 180," Mickey Green of the Somerset Waste Partnership told me.
"It means sometimes we've had to either miss collections, or drop a collection round and pick it up next week."
Local councils cannot compete in the wage wars for drivers.
Councillors will not approve 20% pay rises for recycling lorry drivers, when care staff are getting 1%.
But if people can earn so much more driving other trucks, who will collect our rubbish?
Related Internet Links
The BBC is not responsible for the content of external sites.