Andrew Dymock: Student 'called for extermination of Jews'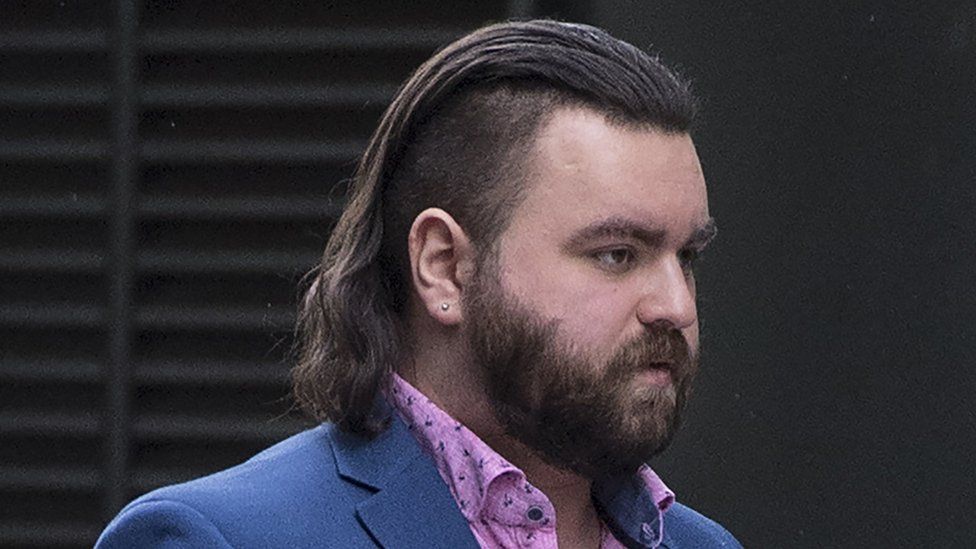 An alleged neo-Nazi used a terrorist website he controlled to call for the "extermination" of Jewish people, a court has heard.
Andrew Dymock, 23, from Bath, is on trial at the Old Bailey charged with 15 offences relating to terrorism and hatred.
The court heard he used the System Resistance Network (SRN) website to publish an article stating that Jewish people are a "cancer".
Mr Dymock has denied all the charges.
The court heard Mr Dymock, who was a politics student at Aberystwyth University, was allegedly a member of the extremist groups Sonnenkrieg Division and System Resistance Network (SRN).
The 15 charges related to a period between 2017 and 2018 when the defendant allegedly controlled the SRN website and Twitter account.
Jocelyn Ledward, prosecuting, said one article - entitled the "truth about the Holocaust" - was written by Mr Dymock and is "clear in its encouragement of the eradication of Jewish people".
She added: "Such encouragement constitutes encouragement to commit acts of terrorism.
"The author calls for the destruction, the eradication, the extermination of an entire race of people."
Jurors were shown a copy of the article, which contained an image of the Auschwitz concentration camp.
Ms Ledward said the defendant had also written and published an article called 'hail victory' in which he stated that a "racial holy war is inevitable" and that "every stabbing, bombing, shooting further plays into our hands".
The court also heard Mr Dymock had engaged in terrorist fundraising by seeking, and receiving, financial donations via the SRN website using a dedicated Paypal account he created.
Later, jurors were told Mr Dymock owned a self-made neo-Nazi poster that encouraged the rape of female police officers.
Mr Dymock also used the SRN Twitter account to link to a "terrorist publication" that glorified the murder of Jo Cox MP in graphic and offensive terms, the court heard.
He was first arrested at Gatwick Airport in June 2018 bound for the US with luggage containing extreme right-wing items and books.
During several police interviews, Mr Dymock denied being a neo-Nazi, denied responsibility for the SRN website and Twitter account, and said material on his devices must have been planted by others or that he had a reasonable excuse for having some items, namely his academic studies.
He told detectives: "I am bisexual but lean towards being homosexual, in direct conflict with Nazism", also telling officers that the Nazis were "not far right".
Mr Dymock denies five counts of encouraging terrorism, four of disseminating terrorist publications, two of terrorist fundraising, one of possessing material useful to a terrorist, one of possessing racially inflammatory material, one of stirring up racial hatred, and one of stirring up hatred on the grounds of sexual orientation.
Related Internet Links
The BBC is not responsible for the content of external sites.