Somerset vicar's 'Twin My Vaccine' scheme raises £80k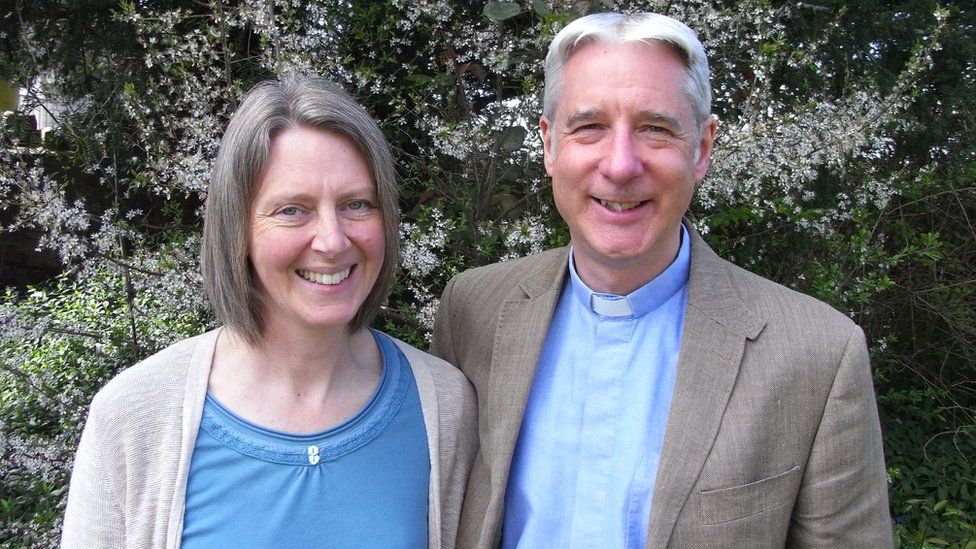 A fundraising campaign set up by a vicar and his wife to help "the poorest in the world" get the coronavirus vaccine has raised more than £80,000.
Revd Scott Patterson, from Somerset, and his wife Rowan set up a Just Giving page for people to make donations after getting the vaccine, on 30 January.
Within four days "Twin My Vaccine" had passed its original £1,000 target.
Mrs Patterson, said it offered an "opportunity to celebrate what we have here [in the UK] by being generous".
More than 32 million people in the UK have received at least one dose of a coronavirus vaccine.
The cost of a vaccine ranges from £4 up to £30.
Mrs Patterson, from Curry Rivel, said because vaccines are free via the NHS she and her husband decided to ask people who could afford to pay for it if asked, to donate to UNICEF, the United Nations' children's charity.
UNICEF has its own vaccination programme and wants to give the jab to two billion people by the end of 2021.
"We started with a £1,000 target, feeling as though that was fairly do-able, but it started to look quite ridiculous as the tally went up every time you clicked on the page," said Mrs Patterson.
"So we have now set a new target of £100,000."
So far the campaign has raised more than £89,000, with the highest supporter donating £5,000.
'Feel simultaneously unsurprised'
Mrs Patterson said it has "resonated with so many people" the appeal has taken on "a life of its own".
"We feel simultaneously unsurprised - because it seems such an obvious thing to support - and constantly delighted," she said.
"I think there is something really nice for people, going and being protected themselves and then coming home and going online and making a donation.
"It feels like a little bit ceremonial and a little bit celebratory."
Related Internet Links
The BBC is not responsible for the content of external sites.