Blue Peter award given to Weston-super-Mare hamster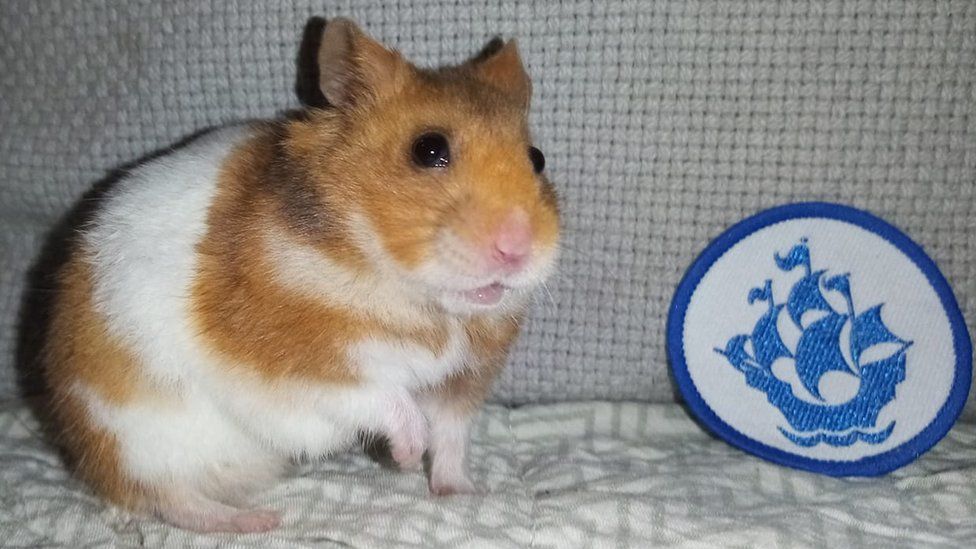 A hamster who "never fails to put a smile" on its owner's face has been given a Blue Peter award.
Billy-Jo Howe, from Weston-super-Mare, in North Somerset, wrote to the show to say how much of a difference her hamster, Treacle, has brought to her life during the most recent lockdown.
The 20-year-old, who lives with autism, says she was overjoyed.
The CBBC show said a few hundred emblems are given out a year and "only in exceptional circumstances".
Miss Howe got Treacle at the beginning of this year, after her previous hamster died.
She said she has found lockdown difficult as she has been unable to do her normal activities and she wanted to nominate the hamster for a Blue Peter badge because Treacle had "really helped her".
"She never fails to put a smile on my face," Miss Howe said.
"Since having Treacle a lot of my carers and other people have noticed how much happiness and joy she has brought to me and she keeps me calm.
"She's kept me sane during lockdown. She just gives me something to look forward to every morning.
"She is so friendly, she understands my autism, she is placid, she is a perfect hamster."
A spokeswoman for Blue Peter confirmed their sought-after badges are not awarded to animals, but they wanted to give Treacle something as a gesture to recognise how she has been helping Miss Howe to cope through the difficult lockdowns by "bringing good cheer".
In a letter to Treacle the show said: "We're thrilled to enclose a very special Blue Peter emblem which your owner could sew onto a favourite blanket for you.
"We hope you'll enjoy wearing your BP emblem with pride, and keep up all the great work, Treacle!"
Miss Howe said: "I got very excited and I literally screamed the house down when it arrived. I'm very, very grateful, I owe so much to Blue Peter."