Ex-Clarks boss Mike Shearwood denies making offensive comments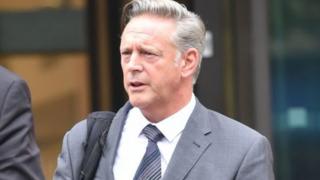 The former boss of Clarks shoes has denied making sexist, racist and homophobic comments.
Mike Shearwood, 56, has taken the family-owned firm to an employment tribunal after he was dismissed for allegedly breaching its code of ethics.
The tribunal in Bristol heard he allegedly described a client as a "faggot", referred to "violent blacks" and said an employee was "hot".
Mr Shearwood said the witnesses were in "collusion". The hearing continues.
Paul Goulding QC, representing Clarks, described that as a "remarkable slur" and Mr Shearwood replied: "You asked for my opinion and that's my opinion."
He denied having a conversation about the size of one employee's breasts, saying that any such reference had been to identify her from others "by a way of description".
Mr Shearwood, a former chief executive at Karen Millen, was appointed in September 2016 and left the company in June 2018.
Clarks, which has its headquarters in Street, Somerset, said in a statement: "Clarks rejects all allegations raised by Mr Shearwood and we stand by our decision in relation to Mr Shearwood's termination."