Lightning blows hole in nursery building in Worle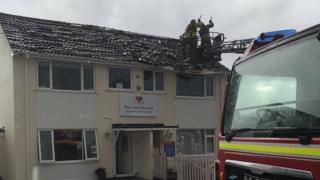 Heavy storms flooded shops and homes in Somerset, while a lightning strike left a hole in the roof of a nursery.
Fire crews called to Ready Steady Go nursery in Worle on Friday said the strike caused severe structural damage.
A pregnant woman was taken to hospital for checks and four others were treated at the scene for minor injuries.
Eyewitness Russ Poole said: "I did see smoke coming out of the roof. The tiles literally exploded and blew a huge hole in the roof."
Nursery director Sam Filer, said: "The house is wrecked, it's got flood damage, the whole ceiling's gone, both roofs gone, the conservatory is broken.
"It's water-logged right through so there's nothing left I'm afraid. It's very sad."
Director, Tara Maher added: "The poor staff who were in there and got hit by the ceiling were all obviously in shock.
"It's quite crazy in there."
The directors said they hoped to re-locate at the local school while repairs could be carried out.
A fundraising page has also been set up to help the nursery with equipment and toys.
Mr Poole was on his way to pick up his daughter who works at the nursery just before 18:00 GMT.
'Massive flash'
He said: "I pulled up outside the Ready, Steady Go. I saw my daughter outside putting the trash out.
"I waved to her and a few moments later there was this massive flash, and this massive bang and a shower of debris came down and hit my car and it my daughter as well.
"She seemed not too bad, but we then were ushered away from the nursery to wait for the ambulance and fire to turn up."
Harry Roberts, who runs Mr Beans Coffee Shop, said: "It was a blessing in disguise the burglar alarm went off. We came down and we found two inches of water.
"The water was coming in from the back and going through the kitchen and right through the shop."