Stolen Land Rovers gang jailed after filmed on own CCTV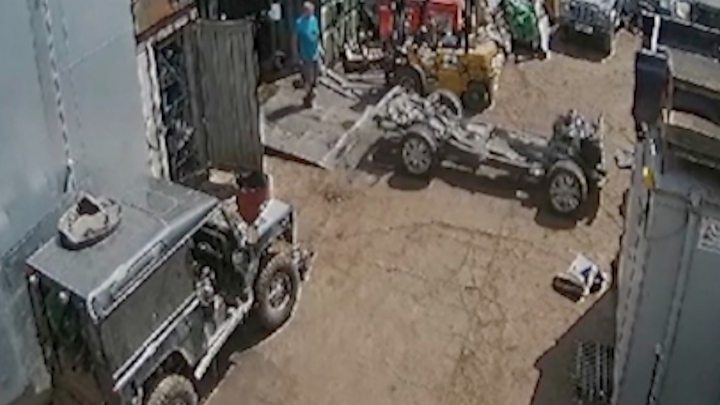 Four men involved in a stolen car racket worth £500,000 have been jailed after being caught on their own CCTV.
The ringleader, Edward Barrington, 28, used his yard in the Forest of Dean and leased out a second site where the vehicles were dismantled.
He was sentenced to four years after previously pleading guilty to conspiracy to handle stolen goods.
Luke Heron, 25, and Kelvin Harding, 28, were jailed for four years after being convicted of handling stolen goods.
Michael Fear, 58, was found guilty of two charges of handling stolen goods, was sentenced to two years and two months in prison.
A fifth man, Stephen Goode, 45, who admitted to conspiracy to handle stolen goods, was given a six-month sentence, suspended for two years.
High-value Jaguar Land Rovers, all using the keyless fob ignition system, were stolen from across London and the south-east of England using hi-tech equipment to either clone the fobs or hack into the car's electronics.
The cars were then driven to a secluded business park in the Forest of Dean where they were either broken down for parts or sold on intact.
Bristol Crown Court was told police were first alerted after a stolen motorhome was tracked down by its owner to Mr Barrington's breakers yard who noticed two Land Rovers with the same number plates.
An investigation was launched and a months' worth of CCTV recordings were seized from the premises which showed top of the range cars, as many as four a day, being delivered and broken down.
Eleven intact stolen vehicles were recovered at the two sites, all on cloned number plates.
A wider inquiry revealed a further 26 high-value cars had been dismantled at the yards between November 2016 and June 2017, which had all been stolen from Northamptonshire, Leicestershire, Surrey and south-west of London.
Police said in total 37 vehicles worth £820,000 had passed through Mr Barrington's two yards but the investigation was only able to prove that 18 cars worth £500,000 had been processed by the gang.
Sentencing the gang, Judge Mark Horton said it was "quite plain" from the overwhelming evidence that this was a "professional and sophisticated operation".
Barrington faces a Proceeds of Crime Act hearing later in the year.