Protests over Trowbridge and Paulton maternity unit cuts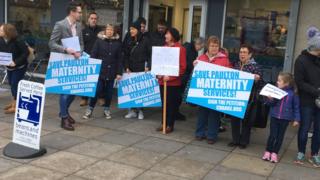 Protests have taken place against plans to cut services at two midwife-led units in Somerset and Wiltshire.
Paulton Birthing Centre and Trowbridge will still run antenatal and postnatal clinics but the post-natal beds will go, so women will no longer be able to give birth there.
Protesters said the units enabled women to stay closer to home.
NHS managers said 95% of the time beds in the midwifery units were empty and they need to staff more complex births.
The proposals have been made by the three clinical commissioning groups (CCGs) which cover Bath, Swindon and Wiltshire.
CCG figures from 7 March showed that the Royal United Hospital (RUH) in Bath had 17 staff on hand for five births.
They also showed that in Paulton seven people were on shift but no babies were born, although the staff did carry out six clinics and two home visits.  
Campaigners said the figures were biased as health bosses are comparing places like Salisbury and Swindon where there are no midwife-led units.
'Conveyor belt'
Janet Randall, 77, whose son, grandchildren and great-grandchildren were born in Paulton, was one of the people at the protest on Saturday.
"We get the care in Paulton and if there are difficulties, you are referred to Bath but the care in Paulton hospital has always been excellent," she added.
Protester Jenny Wareham said: "Bath is very impersonal, a lot of the mums have said it feels like a conveyor belt.
"You're just a number. You can't compare it to the offer at Paulton."
Sarah Meritt, head of nursing and midwifery at the RUH, said: "We've been developing these proposals in response to what mums want.
"Currently women are not choosing to give birth in these free-standing midwifery units."
The plans are out for consultation and a final decision will be made by spring 2019.