Dog poo in Weston-super-Mare tackled by fed-up park users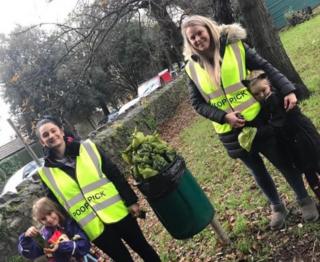 A park has become so overrun by uncollected dog poo that two women have started a group to help tidy it up.
Mel Woodward and Kelly Adderley set up Poop-Pick Weston-super-Mare on Facebook to help tidy up one of the seaside town's parks.
The group filled 37 bags in Clarence Park at the weekend with the subject becoming a "hot topic" on social media.
They said they planned to expand their collection area to cover other locations in the seaside town.
Ms Woodward said, "Poo drives us mad, it drives everyone else mad and we need to do something about it".
"We're raising awareness, people will be saying things now to people who don't pick up their dog poo but we're out-and-about and watching you," Ms Woodward added.
Stephen Steersmith, from the Friends of Clarence Park, said his group had also been doing something similar and the situation had been getting much better.