Wellington Monument: £500,000 to support repair job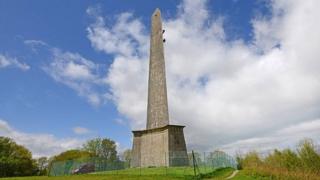 Highways England has pledged to donate £500,000 to support repairs to the Wellington Monument in Somerset.
The 175ft (53m) obelisk was built in 1817 as a tribute to the Duke of Wellington's victory at Waterloo.
The three-sided monument, which is clearly visible from the M5, has been fenced off for 13 years due to falling stone debris.
The donation will go towards a £2m fundraising target set by the National Trust for its restoration.
National Trust project manager Helen Sharp said the cash was a "big step towards our target".
Work on the Wellington Monument is due to start next summer, beginning at the top to correct the most at-risk sections.
The entire cost of the work is set at £3.8m but the National Trust has struggled to raise the full amount.
It has applied twice for funding from the National Lottery for the monument's restoration but has been turned down.