West Somerset Railway vows to overcome 'disharmony'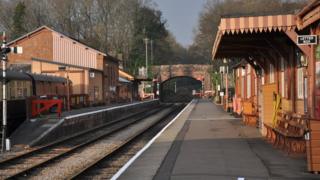 West Somerset Railway (WSR) has vowed to overcome "disharmony" as it carries out a "recovery plan" following an inspection.
WSR decided to close for three months from January following an audit by the Office of Rail and Road (ORR).
The heritage railway was told it had a "significant number of important actions to take" earlier this month.
One of the key issues was tension which had existed between the two main parts of the railway, WSR bosses said.
Chairman Jon Jones-Pratt said "disharmony" between West Somerset Railway Plc and West Somerset Railway Association (WSRA) was well known, but the two parts were "working very closely together" on the modernisation plan.
The railway is run by the plc, which employs paid staff. The association is made up of some 1,000 volunteers.
"Ultimately the two organisations need to work aligned for the greater good of this railway," said Mr Pratt.
"It is poor there have been issues in the past, but we've got to move forward."
Following the report by the railway watchdog, WSR promised to "focus on qualifications and effective record keeping".
Mr Jones-Pratt said a new board was in place and volunteers were now getting regular updates and being "up-skilled".
He added the structure of the board was also changing with each member getting a specific portfolio responsibility, such as compliance or health and safety.
The closure will only affect 17 days in February when a service normally runs, but the tracks will be in use for engine testing and general maintenance work.
The railway is also hoping to grow its service and has submitted a bid to Great Western Railway (GWR) to run a commuter service between Taunton and Bishops Lydeard next summer during its 40th anniversary year.
The trial period will run for 50 days during peak times, with the aim of bringing in a regular service, if there is enough local demand.
A GWR spokesman confirmed the bid was made in October and will announce the successful bids in the new year.