Fish removed from canal for Bath Deep Lock gate repairs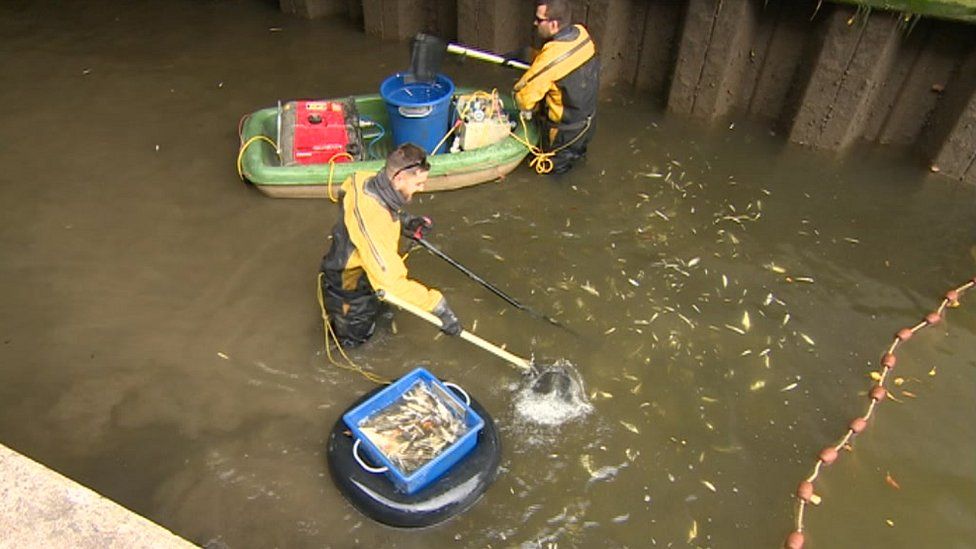 Thousands of fish are being removed from part of the Kennet and Avon Canal for lock repairs to take place.
The Canal & River Trust is carrying out work on Bath Deep Lock in Widcombe - the second deepest lock in the country.
Before the canal and lock can be drained to allow the work to take place, fish are being safely removed from the water.
The fish are stunned with an electric pulse, netted and then re-homed on another section of the canal.
Claire Risino, from the trust, said: "We're just at the start of a six-week programme of works where we need to drain the canal before we carry out the repairs on the lock.
"Before we drain the canal we have to remove the fish so they are not harmed in anyway."
The 12-tonne lock gates and the posts they are attached to are nearly 50 years old and need repairs to prevent leaks and conserve water.
Regional construction manager, Charlotte Wood, added: "As Bath Deep Lock is twice as deep as the other locks on the flight, twice as much water will leave the lock once a boat has been through it, making any leakage from the gates something we need to stop as quickly as possible to help conserve water.
"The lock was used over 2,700 times last year so we're glad that we can repair the gates in order for boaters to continue to enjoy the Kennet and Avon Canal."
The work is part of a £445,000 winter programme to repair and maintain parts of the the canal across Wiltshire, Somerset and Berkshire.
Related Internet Links
The BBC is not responsible for the content of external sites.