Rare barbastelle bats found at Yeovil Country Park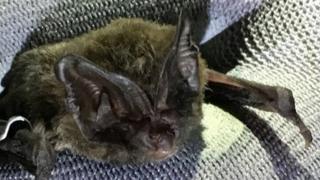 A rare species of bat has been found for the first time in Somerset, during a survey at a country park.
Rangers and volunteers at Yeovil Country Park discovered two barbastelle bats in their annual survey.
They also found Nathusius Pipistrelle, Soprano Pipistrelle and Brown Long-eared bats.
Ranger Becky Russell said the barbastelles, which are a conservation priority, were "amazing creatures with large ears and dark fur".
South Somerset District Council cabinet member Sylvia Seal said: "The volunteers were very pleased to discover two barbastelle bats, one of Britain's rarest mammals."
The bats are a priority species under the Somerset Biodiversity Action Plan. There have now been nine bat species recorded in Yeovil.
Volunteers and park rangers have recorded over 890 species of invertebrates during the annual survey at Ninesprings.