Somerset County Council: Protesters gather to challenge £14m cuts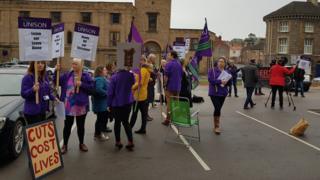 Protesters gathered outside a council to challenge councillors about £14m of extra cuts agreed last month.
Opposition councillors called the meeting to ask Somerset County Council's Conservative leadership to explain what would happen if the savings cannot be achieved.
Liberal Democrat Liz Leyshon said February's budget would not have been approved if they had the full picture.
The Conservatives say they will update councillors about finances more often.
About 25 people gathered outside to protest about the council cuts.
Speaking at the meeting, Ms Leyshon said: "We must ask what contingency is in place should any of those savings fail - and if they are not, how can Somerset residents be assured that the medium term financial plan is robust?"
Conservative Mandy Chilcott replied: "All areas of council budgets are being tightly controlled to prevent overspends, and in some ways to generate underspends".
She added that there was £3.4m set aside to make up for any overspend.
Council leader David Fothergill also told the meeting that four of the county's MPs had lobbied the Prime Minister for more "funding and flexibility" in raising extra council tax rates to fund youth services.
A cabinet meeting also took place on Wednesday, where members rejected a call-in by Labour; when a cabinet decision is reviewed and can be overturned.
Leigh Redman wanted to reconsider or delay about 80 job cuts to early help services for children and their families until February, but the initial vote was upheld.
The final results of the council's libraries consultation which began this year have also been published.
The county council is to close 15 libraries unless volunteers step in and run them day-to-day.
The 19 other branches, mostly in Somerset's bigger towns and villages, are set to stay open under the proposals.