New head promises Downside pupils are safe after abuse report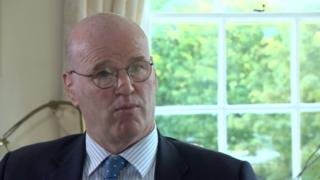 The new head of a Catholic school has "absolutely promised" children are safe after a report found the school hid allegations of historical child abuse.
"Appalling" abuse was inflicted on pupils at Downside in Somerset over 40 years, a recent Independent Inquiry into Child Sexual Abuse (IICSA) said.
Newly appointed head teacher Andrew Hobbs said: "That culture has changed and we are now extremely vigilant."
The abuse dated back to the 1960s and involved pupils as young as eleven.
The IICSA also looked into abuse at Ampleforth in north Yorkshire and found both institutions had attempted to cover up the allegations.
The report - published in August - was based on evidence heard by the IICSA's investigation of the Roman Catholic Church and the English Benedictine Congregation.
Ten individuals connected to both institutions, including monks, have been convicted or cautioned for abuse.
Mr Hobbs, speaking for the first time since the report's publication, said they had "learned from those dreadful incidents".
He said: "Children, here now, are as safe as they can possibly be. I've been involved in ensuring that there has been a full change of culture.
"I can absolutely promise that today that there is no complacency. We are vigilant, we make sure that we listen to children.
"We listen to staff if they have concerns and we will continue to do that and make sure that the children are safe at Downside. And that their wellbeing is of absolute paramount importance."