Somerset County Council sells off 'goldmine' farm for £1.4m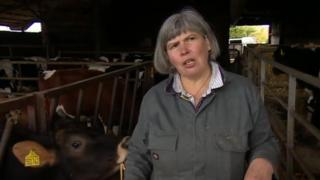 A council that sold off a farm for nearly £1.4m has been criticised by its former tenant for "frittering away the family silver".
Oxenford Farm in Dowlish Wake, Somerset, was auctioned off in five lots and sold for £1.35m in total.
South Somerset councillor Sue Osborne, who ran the dairy farm for 16 years, said the sale "won't really help" the council which has to save £15m by 2020.
Somerset County Council is selling eight farms in a bid to raise £8m.
Speaking to the Local Democracy Reporting Service, a council spokesman said: "Further farms are expected to be vacated next year and existing tenants continue to express interest in purchasing although no sales are agreed to date."
Conservative politician Mrs Osborne and her husband held a 16-year tenancy at the farm near Ilminster until the end of June this year.
She said she was surprised that the land had fetched so high a price at auction.
But she added: "Frankly, it won't really help at all when you look at the bigger picture.
"In a way, it's not just selling off the family silver, it's actually frittering it away - because what are they going to sell next year?
"There's no guarantee there's going to be another goldmine like Oxenford Farm sitting in the wings to rescue them."
The sale was made as part of the county council's efforts to boost its revenue.
Prior to the start of the sell-off in 2010, the council owned 62 farms. It now has 20 tenant farms remaining.