Why does nobody want a beach hut in Weston-super-Mare?
By Tammy McAllister
BBC News, Somerset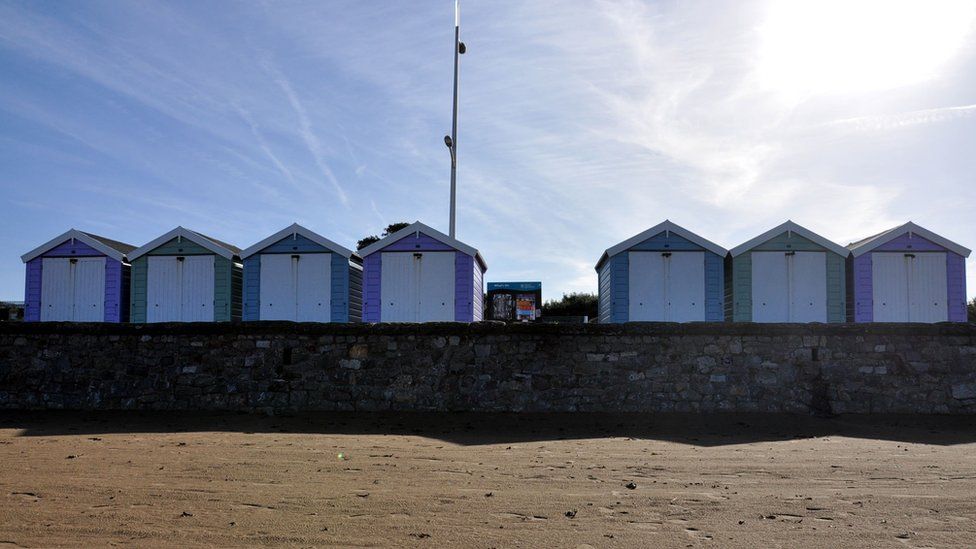 Beach huts sell for eye-wateringly high prices in many parts of the UK but in Weston-super-Mare it seems no-one wants to lease one, let alone buy one. But why is that?
In 2015, North Somerset Council spent nearly £65,000 on 24 huts positioned along the south end of the promenade.
But three years on they are still running at a loss with rental income falling to £12,000 per annum.
Locals told the BBC they were expensive, weren't on the beach, lacked toilets and parking nearby - or that their families just wouldn't want to spend a whole day in the beach.
And a seaside expert said the area just didn't have a tradition of beach huts, unlike the south coast and East Anglia.
The council said the beach huts - which it leases out for £915 a year - had not been a failure. "Weston has had its busiest summer for many years and for us it's about a whole range of activities and events that happen along Weston sea front - they're part of a much broader seaside offer," said assistant director Mandy Bishop.
But elsewhere, beach huts have been more of a hit.
In Scotland, £25,000 beach huts went on sale. Eight have been sold and 10 more are planned next year. Architect Ian Sutherland MacCook said the buyers were local and saw them as a family legacy.
He said although Scotland had no beach hut tradition, in nearby Hopeman, they were highly prized with families holding onto to the leases for generations.
But in Weston, the huts are often closed up, with rusty padlocks staining the pastel paintwork.
Weston resident Abbie Discroll lives 500 yards from the beach and said she had never seen the huts in use.
She said: "They're expensive and they're in a public space which takes the whole thing out of the idea of having a beach hut on the beach when you can't have your own private area."
However Michael Ham regards his beach hut as his "front garden".
"In July and August I've used it about 60 times and I'm hoping to use it even more even before the winter sets in," he said, while wrapped up against the September breeze.
"Lots of families come here and this is the safest end of the beachfront for children to play.
"They can walk a long way out to sea without getting stuck in the mud."
But do people with young families share his enthusiasm?
Charlotte Milsom, who has two sons, said: "We tend to bike ride, use scooters, walk and build sandcastles.
"We are out a lot but we would never spend a whole day on the beach."
Her friend Faye Chambers said the huts had no amenities nearby and instead it was more common to see people park up and stay in their cars with a flask of tea reading the papers.
When the beach huts were first erected, there were several complaints they blocked the public rights of way.
Weston resident David Tolhurst said: "The problem with the beach huts here is that they are open to the westerly winds and there are no places regarding parking and toilets."
He added there was no direct access to the beach because of the sea wall, a view shared with another local, Ron Hunter, originally from Scotland but who moved to Weston when he retired.
"To me it seems silly that you've got to get beyond this wall and there are not many access points on to the beach," said Mr Hunter.
But in other parts of the country, it seems beach huts being positioned behind a sea wall on a promenade is not a problem.
Seaside historian and author of Beach Huts and Bathing Machines, Dr Kathryn Ferry, said: "Very few are on the beach. It's very often the case they are on the promenade as it is safer for storm damage and it's a flatter surface to build on.
"In somewhere like Southwold where they are really desirable they are on a high sea wall."
Geoff and Cathy Powell from Chester, on holiday in Weston, suggested a lack of money in the seaside resort could be a factor.
"I don't think there's the money for that sort of investment here so you're reliant on people coming here to lease them," said Mr Powell.
Mrs Powell added: "We used to have a beach hut down in Nevin in Wales but we had a holiday home and you couldn't have rented the beach huts there.
"It was as rare as hens' teeth to actually get one but the world was different, everybody was on the beach with their families."
The idea of community is a factor, explains Dr Ferry.
"Beach huts take on a character of their own, they become a member of the family," she said.
"People are really attached to their beach huts and if you don't have that culture of a community in those huts and if you're starting from nothing you need to foster that community in a more imaginative way."
But some people may never be persuaded of the benefits of a beach hut. Michael Poland, who was cycling along the seafront, said he thought they were a monstrosity. "There's no privacy, you've still got six foot of prom and a wall and you've still got people walking by," he said.
An interesting observation has been made by Dr Ferry, who toured the English coast.
"In a place like Weston there hasn't been a beach hut tradition.
"North Somerset just didn't have beach huts until these were put up, it's one of the few coastal counties that didn't."
"I got to Dunster beach in Somerset and that was pretty much the end of it."
She said Burnham, another seaside town, did not have any, and even on the North Devon coast there were "only a few in Westward Ho!".
Dr Ferry suggested a "community element" may give the huts a life, such as lending them out to local charities.
North Somerset Council said it was looking into different renting options to boost its income, such as letting the beach huts on a hourly, daily and weekly basis.
Assistant director Ms Bishop said: "We've learnt a lot by talking to other seaside resorts and one thing is that we need to be more flexible because not everybody wants to pay the sum for a whole year."
Related Internet Links
The BBC is not responsible for the content of external sites.