Two men jailed for Somerset arson attacks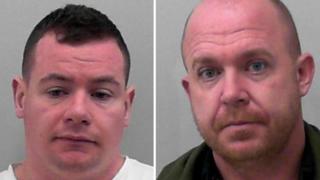 Two men have been jailed for torching a barber shop.
Liam Waugh admitted setting the fire at Morris Barber Shop in Saltford, as well as another arson attack at Just Good Tattoos in Bath.
After a trial at Bristol Crown Court, Michael Warman, 38, of Bideford, Devon, was found guilty of helping to carry out the barber shop arson and possessing a disguised firearm.
He was cleared of involvement with the tattoo parlour attack.
Both arsons happened on 9 August 2017.
Warman was jailed for two years for the Saltford arson and a further nine months for carrying a stun gun disguised as a torch.
But a jury found that he had taken no part in the Bath fire.
Waugh, 30, of no fixed address, was jailed for three years and eight months for two counts of conspiracy to commit arson and a number of driving offences.
Investigating officer DC Mark Gilbert said: "These arson attacks caused substantial damage to two businesses and it was clear from the start they were linked, with an accelerant poured through the letterbox in both incidents.
"Neither of them have given any explanation for their actions but we believe these were a clear attempt at intimidating local businesses in the community."