Woman with guide dog thrown out of Taunton restaurant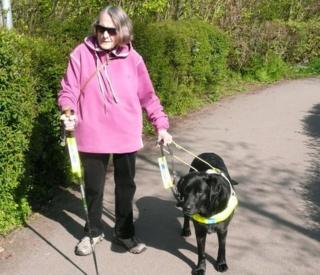 An 84-year-old woman was thrown out of a hotel restaurant for having a guide dog.
Tilly Trotter was supposed to be celebrating her 63rd wedding anniversary with her husband Tony, 85.
But a member of staff at the Castle Hotel in Taunton told her no dogs were allowed in the restaurant and asked her to leave.
The four-star hotel described the action, first reported by Devon Live, as "very unfortunate".
Mr Trotter, a retired Royal Navy commander, said: "We're astounded that a four-star hotel is ignorant of the law relating to disabled people."
He said they had visited the hotel's restaurant, Brazz, several times before with Mrs Trotter's dog - a 10-year-old black labrador called Yazz.
'Very upset'
The couple, from Uffculme in Devon, had gone to the hotel for lunch on 26 August.
Mr Trotter said: "My wife had a white stick and a harness and it was clearly a guide dog."
Mrs Trotter, who has been registered blind for 17 years, said: "I was surprised and very upset."
Clive Wood, from the Guide Dogs charity, said the law was clear that people with guide dogs should not be refused entry to businesses.
It said all businesses needed to ensure all staff were aware of the law.
A spokesman for the hotel said: "It seems that the guide dog owner was seated by a member of our management team and then asked to move by another member of staff who was ill-informed on proper procedure for guide dogs."
The hotel said it had now retrained staff to "understand the proper procedure for handling assistance animals".