Safety work on deadly section of A303 in Somerset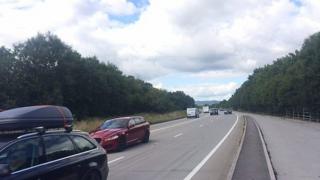 Safety improvements are to be carried out on a section of road linking London to the west which has claimed several lives in recent years.
Marcus Fysh, MP for Yeovil, said he had pressed the Department for Transport "very hard" to improve safety aspects of the A303 Ilminster bypass.
He said the improvements will include road markings and rumble strips.
The government has committed to making the A303 a dual carriageway, but work is not expected to begin until 2020.
Highways England said: "We are currently finalising the design of safety measures along the A303 Ilminster bypass and these are programmed to be introduced in the spring of next year."
Mr Fysh said research has shown accidents have been caused by a "lack of separation" between traffic travelling in different directions, rather than speeding.
A 60-year-old woman died following a crash on the road on 19 August, and in February 2017 an 81-year-old man died in another collision.
Andrew Shearman of Ilminster Town Council said the news was "most welcome" as the six-mile stretch of road has a "high fatality rate".