Minehead lifeboat gets its first female skipper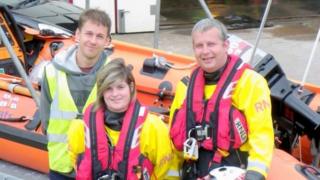 A woman has taken charge of a lifeboat for the first time in Minehead RNLI station's 117-year history.
Karla Thresher, 28, was called out on a rescue just as she was about to begin her final assessment to be a skipper.
After successfully leading the rescue of two boys on Thursday evening she was promoted on the spot.
Ms Thresher said: "It really helped me get over my nerves. I was so intent on reaching those boys that it took my mind off everything else."
She was in charge of a D-class boat accompanied by her RNLI assessor and fellow crew member Phil Sanderson.
'Huge thrill'
The rescue took place three miles from Minehead, at Blue Anchor, where the boys had been cut off by the rising tide.
"It's a huge thrill to be the first woman helm at the station, but I couldn't have done it without the support of the rest of the crew - the men as well as the women," said Ms Thresher.
She first joined as a member of the shore crew 12 years ago.
She has spent the past 18 months undergoing intensive training, including a week at the RNLI College in Poole, to become a skipper of a D-class lifeboat.
The boats have been the workhorses of the RNLI for 50 years.
'Ambassador for women'
Her promotion has preserved her family's link to the charity - her great-uncle, Harold Bushen, was coxswain 50 years ago.
Minehead station has four other women crew members, so a future rescue could be made by an all-female team.
Minehead RNLI local operations manager John Higgie said: "She has made great strides in terms of personal fitness and has really thrown herself into learning all the theory, as well as mastering boat handling.
"She is a wonderful ambassador for women in the RNLI."
Across the RNLI's stations across the UK and Ireland there are four female coxswains (who skipper the larger lifeboats) and 43 female helms (who skipper the smaller inshore lifeboats).