Detectorist thought Elizabethan gold ring 'was ring-pull'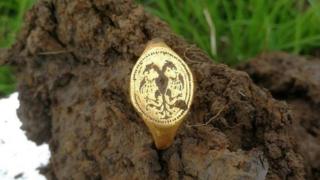 A metal detectorist who admits he has unearthed "loads of rubbish" in the past struck gold when he discovered an Elizabethan signet ring.
Ben Bishop, from Bridgwater, Somerset, thought he had found a drink's can ring-pull while searching a field.
"It's the first gold I've ever found. I was so gobsmacked I sat staring at it for 40 minutes," the 30-year-old said.
The ring, featuring a double-headed eagle, is to be auctioned with a guide price between £7,500 and £10,000.
Mr Bishop said he found the item last year in a field where had permission to dig.
He believed he had found another ring-pull as he had "found tons of those over the years, along with lots of other rubbish".
The factory worker said he did "lots of research" on the ring and registered it as treasure.
The ring has since been identified as Elizabethan and dates from between 1550 and 1650.
"The ring was taken away for a couple of months to be examined and the British Museum did a report on it. No museums wanted to buy it so it was returned to me as the finder," he said.
"I had an agreement with the owner of the field that if I found anything of high value I would sell it and split the proceeds.
"I have no idea who it originally belonged to but it would have been a person of wealth and importance. Glastonbury Abbey, an old monastery, isn't far away," he added.