Somerset County Council Tories quit over budget crisis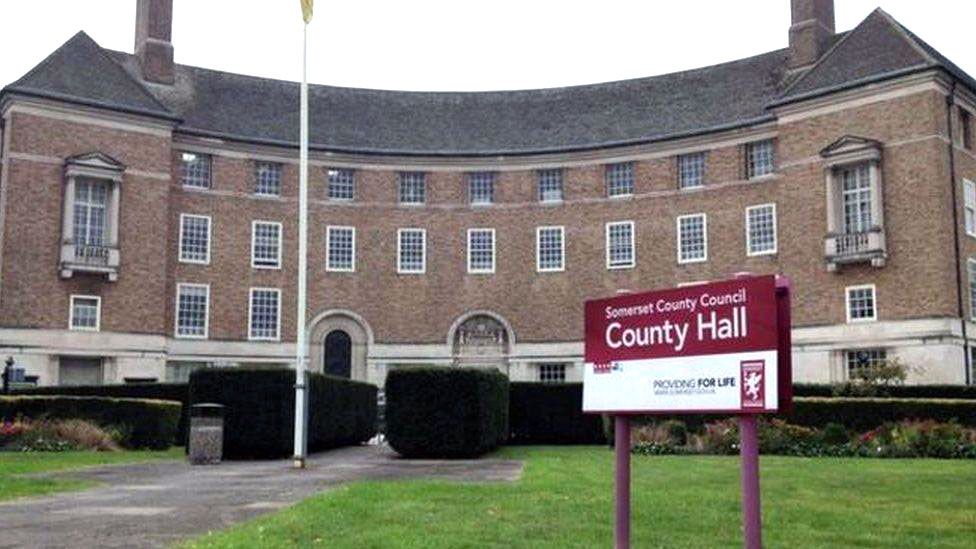 Two Conservatives have quit senior roles at Somerset County Council over its handling of a financial crisis.
Dean Ruddle and Neil Bloomfield held roles as the respective chair and vice chair of the audit committee.
The council has a projected overspend of £12m until the end of March 2019. In May, the chief executive said council spending needed to be stabilised.
Conservative leader, David Fothergill, said he did not fully understand the pair's reasons for quitting.
Mr Ruddle said finances were "dire" and the council should explore new ways of making money, rather than relying on government funding.
"If I'm not confident in the decisions being made, I have to make a stand," he said.
The BBC understands that Mr Bloomfield came to his decision separately and for the same reasons.
The audit committee's role is to oversee how the budget is being spent by the council.
Mr Fothergill said: "Of course I'm absolutely disappointed that they decided to go.
"When finances are under strain....we all step up and make difficult decisions, show true leadership and that's what most of us are trying to do."
'Principles and integrity'
The overspend is due to spending by children's services, where demand is outstripping resources.
More money has been poured into the department due to its performance, which was rated in the past as inadequate by the watchdog Ofsted.
Leader of the opposition at the council, Liberal Democrat Jane Lock, said: "I think both Dean and Neil had principles and integrity, and were compromised by what the Conservatives at Somerset County Council are trying to do.
"It shows the rift in the group, and they were left with no other option but to resign from their posts."
Related Internet Links
The BBC is not responsible for the content of external sites.