Readers turn screw on school-run drivers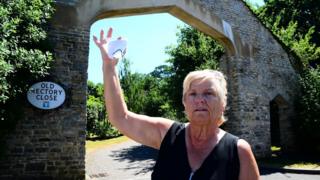 A grandmother has claimed nails and screws have been deliberately stuck in a road by people angry with drivers' parking during the school-run. Janet Smith, 62, found a screw in her tyre in Old Rectory Close, Highbridge, Somerset, in June after collecting her grandchildren from primary school. The story struck a nerve with many readers, with issues around child obesity, bad driving and poor transport infrastructure cropping up repeatedly.
'Bogeymen terror'
Two of the key issues readers commented on were childhood obesity and safety.
Freebooter said: "Unless your child is disabled you should not be able to park within 500 metres of a school unless you are a resident.
"We are fast becoming an obese society and somebody needs to force more exercise on kids. It will be good for them, not only regarding physical heath but mental health too."
Ralph recalled his own experiences and claimed obesity was simply not an issue 30 years ago.
"I think if it's two miles (half an hour's walk or less) pupils should walk to and from school," he said.
"I always walked to and from school in the 70s-early 80s. There were one or two noticeably overweight kids in a class of 20 or 30.
"I was rake thin until my early 20s, when I started working in offices and driving everywhere."
Bogeyhead believes the fear of walking was contributing to the crisis.
"When I was at primary school in the 1960s, I had to take two buses to and from school, but back then hardly any pupils were given a lift to school.
"Nowadays, people live in terror of the bogeyman and children have to be transported everywhere."
But for many in rural areas, walking is simply not an option.
suffolkboy said: "All very well saying that all parents should walk their children to school, but this isn't always that easy in rural areas. My closest primary school is three miles away."
'Selfish and lazy'
There was vitriol for drivers, particularly those in 4x4 or SUVs, from many commenters.
Rockin Rog summed up many of the views, saying: "I don't know about this particular school, but the most inconsiderate driving and parking that I have seen has always been around the local schools at pick up and drop off time.
"Selfish and lazy is all you can say about the parents who disregard the road markings and general rules of the road. (BTW putting your hazard lights on doesn't mean you can park on the yellow zig zags for 10 minutes.)
argh added: "I live by a school and the parents are a danger. They park where and however they want.
"The council put bollards up to stop them. Didn't work, as the ignorant people just park in the middle of the road, they park on corners making it impossible to see when pulling out of the junction."
Cat o nine tales thinks it should be schools who take more responsibility.
"I cannot condone the intentional damage being caused to cars (which could cause an accident). However, the inconsiderate driving /parking outside of many schools is a nuisance to many with (it appears) little consideration offered to residents /other road users.
"Unfortunately this inconsideration is always down to 'somebody else'. Schools should also take some responsibility here!"
'Not so simple'
In fairness to motorists, many pointed out the school run was essential for many children who lived too far away to walk or cycle to school.
Jewel141 said: "There should be more staggered times when schools open (this would help working parents) and no parking zones around schools (this will keep kids healthier) and maybe even a parking zone for parents to park. This would help keep everyone happier."
GB8472 said it was "too simplistic" to expect parents to walk children to and from school.
"You would lose thousands of people their jobs who incorporate the school run into getting to work.
"I drive past my kids school to go to work so shall I walk there to school, back home again and drive past there again? It's not so simple in a lot of cases."
Lyn pointed out: "Many children in our local area go to their local 'catchment' secondary school but public transport in rural areas is unreliable and expensive so many parents drive their kids to school and there aren't any joined up cycle paths or pavements for them to safely walk /cycle to school."
Jimmy w concurred: "I used to walk to school. My three children would walk to school too if the road to the school had a pavement!"