Crews tackle large fire at tyre factory in Castle Cary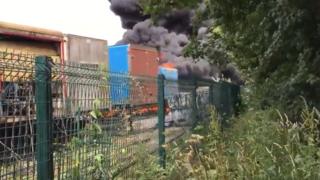 A large fire has broken out in the lorry yard of a tyre factory in Somerset.
Devon and Somerset Fire Service said they were called to Tyre Renewals in Castle Cary at 14.20 BST.
A spokesman said 12 appliances with crews were currently on the scene.
Onlookers reported hearing a series of bangs thought to be fuel tankers exploding. It is not yet known if anybody has been hurt in the blaze.
The fire service urged members of the public to keep their doors and windows closed due to the amount of acrid smoke in the area, which is visible for miles around.
Traffic is at a standstill in the Torbay Road area.
Eyewitness James Robert said: "I heard a big explosion, then seven or eight smaller explosions.
"I've counted about five fire engines go past to the fire.
"There is thick black smoke coming from the industrial estate."
Another onlooker, Christian Martin, said he first saw thick clouds of black smoke rising up to the south of the town then heard loud bangs "like explosions".
"I think this was barrels of oil and gas tanks exploding," he said.
"Some of the trees alongside where the lorries were parked up started catching fire but the fire service managed to get these under control very quickly."