Portishead councillor unable to quit because of lift share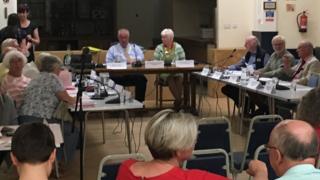 A councillor who announced she wanted to quit in the middle of a council meeting was forced to stay as she had to give the vice-chair a lift home.
Councillor Marilyn Koops was at a Portishead Town Council meeting last week to discuss a "town vision".
Instead, a row broke out between the council chair and a member of the public who he accused of ignoring him.
Following the spat Ms Koops said she was on the point of walking out but had "given Lesley a lift, so it's awkward".
The meeting's agenda included signing-off the council's finances and looking into bringing a defunct pub into public hands.
Instead the 20 people at the meeting witnessed council chair Peter Mitchell accusing a member of the public, Annette Hennessey, of ignoring him "three times" in public and sending text messages joking about the encounter.
Increasingly heated
In retaliation, Ms Hennessy said she would "not pass the time of day" with someone who had been "rude to me in a meeting".
As both claimed the other was being childish, Ms Koops told the meeting that she was close to quitting but could not leave without vice-chair Lesley Cottrell.
"I'm at the point of walking out and resigning but I have given Lesley a lift, so it's awkward," she said.
Portishead Town Council meetings have become increasingly heated.
In May, the town's annual meeting lasted just six minutes after residents objected to Ms Cotterell chairing it.