'Buy British helicopters' Lord Ashdown urges government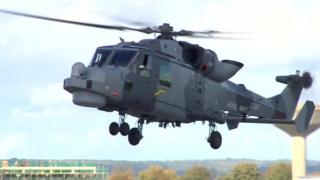 The government is turning its back on the UK's sole helicopter manufacturer, putting 3,000 jobs at risk, Lord Ashdown has said.
The former Liberal Democrat leader said the government lacks a clear strategy, after Leonardo lost a deal in 2016 to build 50 Apache helicopters.
The BBC understands that if no more contracts are won the company can only sustain its workforce for three years.
Leonardo, based in Yeovil, Somerset, has declined to comment.
Two years ago, the government announced US company Boeing would deliver 50 Apache AH-64E attack helicopters to the British Army.
Since then, no other contracts have been secured either for the military or commercially, while last year the government gave Boeing permission to build a new factory at Boscombe Down, Wiltshire, creating 1,000 jobs.
Boeing insisted the site would not threaten jobs in Yeovil - where military aircraft including the Lynx and Sea King helicopters have been built since 1935.
Lord Ashdown, the former Royal Marine who was Yeovil MP between 1983 and 2001, has also said helicopter manufacture in the UK is not included in the government's Industrial Strategy white paper.
Even if no more contracts are awarded, the Somerset base will still be needed for maintenance and repair work on Leonardo helicopters already in service with the British military.
'Pipeline of orders'
While there are deals being talked about - with the UK government, with Saudi Arabia and other countries in Asia - none of these have come to fruition.
The Liberal Democrat's concerns have been echoed by a former managing director and chairman of the Yeovil-based company, Graham Cole.
He wants the government to support the company and buy British.
He also said the government needs to declare its support for the UK's only helicopter manufacturer, before it is too late. If it does, then "other countries will have the confidence to follow".
Mr Cole added: "I know from my own time just how important it was to have a long flow of orders.
"From the time you get an order to the time you deliver it is probably three years or more. So a pipeline of orders is very important.
"I have not seen orders coming through and if you don't, then slowly that pipeline starts to empty and that becomes a worry."
'Long-term relationship'
Lord Ashdown, has raised his concerns in the House of Lords.
He argues that the government's "failure to provide a clear strategy to preserve our onshore sovereign capability to design and manufacture helicopters" was a serious threat to 3,000 local jobs.
"Ever since the government gave the order for the Apache helicopters to the Americans, without even giving Leonardo the chance to bid, I have been worried this government is not serious about maintaining Britain's capacity to build its own helicopters.
"So I have been pressing the government in their industrial strategy to make a statement that is clear about Britain's need to continue to make its own helicopters.
"They have refused to give that so far," he added.
However, on a recent visit to Somerset, the government's Defence Procurement Minister Guto Bebb said the Ministry of Defence had a "close working relationship with Leonardo which it wanted to maintain for the future".
"I understand the need to secure the capability we have in Leonardo but governments can't provide a contract every single year.
"We are aware of the importance of Leonardo and the capability that they have. We want to carry on with that long term relationship," said Mr Bebb.
But his critics argue those promises need to become concrete contracts if Leonardo's Somerset base is to have a long-term future.