Bulmers art theft trial: Family home a 'soft' target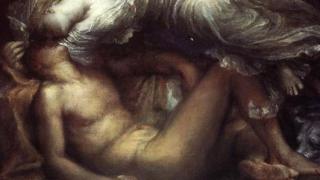 Eleven men have gone on trial accused of a multimillion-pound raid at the mansion of the Bulmers cider family.
Valuable paintings and antiques worth about £2.5m were stolen from Esmond and Susie Bulmer's home in Bruton, Somerset, in 2009.
Bristol Crown Court heard two of the defendants were builders who were carrying out work on the property.
The prosecution said it was they who "planted the seed that this would be a very soft and lucrative target".
All the men deny the charges against them.
The court heard three members of the group - Skinder Ali, Liam Judge and Matthew Evans - went to the house late on March 20 when the couple were on holiday.
They pushed their way in when a woman who was house sitting for the Bulmers opened a side door to let out the family dog, the jury heard.
They are alleged to have said to her: "If you keep quiet we won't hurt you."
'Like Reservoir Dogs'
The court heard they tied her to a banister with plastic ties and put a blanket over her head, before spending 45 minutes selecting items to take.
A total of 15 paintings were stolen along with £1m worth of antique jewellery.
Prosecutor Stephen Mooney said Judge and Evans, both from Gloucestershire, had previously worked on the Bulmers' house as builders.
He said they planted the seed of what was "a sophisticated and well planned operation".
But everyone in the dock was involved in profiting from the burglary, Mr Mooney alleged.
The jury was shown a graphic where each defendant was assigned a colour, which the prosecution said was "a bit Reservoir Dogs".
He added: "One of the features of this case is that the burglars really bit off more than they could chew."
All but one of the paintings stolen during the burglary, including Endymion by 19th Century painter George Frederic Watts, have since been recovered.
The trial is due to last at least four weeks.
The defendants:
Liam Judge, aged 42, of Foley Close, Tuffley in Gloucestershire, denies conspiracy to burgle
Matthew Evans, aged 41, of Coral Close, Tuffley in Gloucestershire, denies conspiracy to burgle
Mark Regan, aged 46, of no fixed address, denies conspiracy to receive stolen goods (paintings)
Skinder Ali, aged 39, of no fixed address, denies conspiracy to burgle and conspiracy to receive stolen goods (paintings)
Donald Maliska, aged 63, of Abbey Place, Priory Road, Dartford, denies conspiracy to receive stolen goods (paintings) and conspiracy to defraud
Jonathan Rees, aged 62, of Village Close, Weybridge, Surrey, denies conspiracy to handle stolen goods (paintings), conspiracy to defraud and perverting the course of justice
David Price, aged 53, of Virginia Court, London, denies conspiracy to receive stolen goods (paintings) and conspiracy to defraud
Ike Obiamwie, aged 55, of Perryn Road, Ealing, London denies conspiracy to receive stolen goods (paintings) and conspiracy to defraud
Nigel Blackburn, aged 60, of Frederick Street, Hockley, Birmingham, denies entering into or becoming concerned in a money laundering arrangement
Azhar Mir, aged 65, of Halstead Grove, Solihull denies entering into or becoming concerned in a money laundering arrangement
Thomas Lynch, aged 43, of St Benedict's Road, Small Heath, Birmingham denies conspiracy to receive stolen goods (paintings)