Microlight in near-miss with two RAF Hercules in Somerset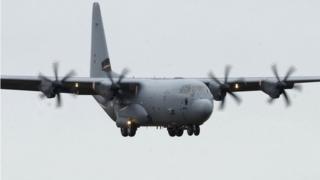 A microlight aircraft was almost hit by two low-flying RAF transport planes because it was too small to show on their radar, a report has said.
The UK Airprox Board, which investigates near-misses, said it happened at Brown Shutters Farm airfield in Somerset on 10 January.
Another pilot who witnessed the incident from the ground told the board it was "bloody close".
Airprox Board said "safety had been much reduced below the norm".
'Steep turn'
The Pegasus Quantum pilot told investigators he had made all the standard checks before take-off but when he was about 200ft (70m) in the climb, he saw two Hercules C130s flying in formation to his right.
He said "within a few secs" he realised they had not seen him and he was forced to make a "steep avoidance turn".
The crews of the C130s, which were on a low-level training mission, told investigators they had not seen the microlight because it was too small to appear on radar.
The board rated it as a second most serious Category B incident and recommended HQ Air Command "reviews the education of military pilots with respect to the avoidance of minor airfields".
An RAF spokesman said: "We welcome all recommendations made in air proximity reports and do whatever we can to prevent them from happening again by ensuring that air safety remains at the core of all of our aviation activity.
"It should be noted that millions of military and civilian flights are made in UK airspace each year with only a very small number of air proximity reports being made, of which even less identify that the safety of our aircraft may have been compromised, underlining the professionalism of commercial, military and private aviators."
In a separate incident on 26 January, a military jet had a near-miss when it flew through a group of paragliders on Salisbury Plain in nearby Wiltshire.
An UK Airprox Board investigation said the cause was "effectively a non-sighting by the Hawk pilot" and recommended both the paragliding club and Salisbury Plain Training Area "refresh their LoA (Letter of Agreement) to cover usage of the Bratton launch site and how that information is conveyed".