'Top secret bunker' in megalithic barrow sells for £23k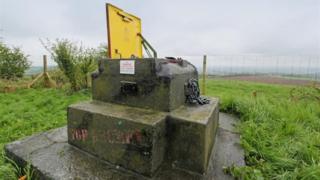 A "top secret nuclear bunker" built into a megalithic barrow in Somerset has been sold at auction for £23,000.
The former underground Cold War bunker, on top of Barrow Hill in Farmborough, was viewed by more than 50 people and attracted "lots of male interest".
Sitting on a 1,367 sq ft (127 sq m) plot, the subterranean "secret hideaway" boasts solar panels, a post box and panoramic views towards Wales.
Rob Ansell, from Maggs and Allen, said it was a "very unusual" property.
It was described by the auctioneers as a "truly unique opportunity" to "own a piece of Cold War history" which could be put to "a variety of different uses".
Built into the centre of a burial mound, the former MoD Royal Observer Corps (ROC) nuclear bunker is accessed via a secure hatch and ladder.
Along with a main 115 sq ft (10 sq m) room and separate toilet, the underground pad also offers some of the original equipment.
'Bit of fun'
Mr Ansell said it was bought from the MoD a few years ago so the seller could host a "few jollies" and have a "bit of fun with it".
"It's very unusual, I've sold public toilets, telephone masts but this is the first nuclear bunker and there was lots of interest," he said.
"The majority were men but it's been bought by someone for a bit of fun, for recreation for him and his kids."
With a guide price of £10,000 to £15,000, the underground bunker sold for £23,000 at auction on Thursday.